Candlemass, Daylight Dies
Pearl Room, Mokena
Thursday, May 22, 2008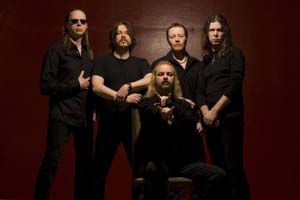 Candlemass haven't toured the United States in nearly two decades? Really? It hardly seems possible one of the best doom metal bands ever haven't stepped foot on an American stage in that long.
1991, that was the last time Candlemass played the States. Why so long? You can use the old standby and blame the rise of Nirvana, grunge, and all that, but truth is, Candlemass weren't ever commercially viable enough in the first place to be affected by such passing trends. As much great material as the band gave metalheads in the '80s – 1987's Nightfall is considered a genre masterpiece, and both '88's Ancient Dreams and '89's Tales Of Creation are highly regarded as well – the '90s weren't such a good time for them. Volatile frontman Messiah Marcolin's 1990 departure proved to be an omen of things to come. Band leader/bassist/songwriter Leif Edling tried to hold things together by hiring a new singer, Tomas Vikstrom, for 1992's Chapter VI, but the effort was short-lived as Edling broke up the band soon after. By 1998, though, Candlemass were up and running again . . . sort of. Dactylis Glomerata included none of the band's '80s players except Edling and also none of the band's classic sound. Many headbangers gave up on Candlemass by 1999's From The 13th Sun (though the most avid metalfan this writer knows calls it the "most authentic testament to depression, desperation, and deep-space distance that has ever hit the metal genre"), again recorded with a cast of unknowns (one of whom, Mats Stahl, is still in the band today).
Things got nearly as weird in the early part of the next decade when most of the classic lineup, Marcolin included, reunited and released the double-disc Live. Then they disbanded. Then, the very same year, they reunited and recorded – allegedly in 10 days – what would become their 2005 self-titled album. Then, Marcolin left . . . again. This time, though, everyone else stayed, hired Rob Lowe – an American! – of Solitude Aeturnus, and released last year's fantastic King Of The Grey Islands (Nuclear Blast). Lowe isn't Marcolin, but in a weird way his more even-keeled, less-operatic style fits better.
If a headlining set from Candlemass isn't enough gloom and despair for you, North Carolina doom act Daylight Dies open. The band release their third album, Lost To The Living (Candlelight), June 24th.
– Trevor Fisher
Click here to download Candlemass' "Born In A Tank."
Category: Stage Buzz, Weekly