Hayes Carll
No Longer A Mess In Texas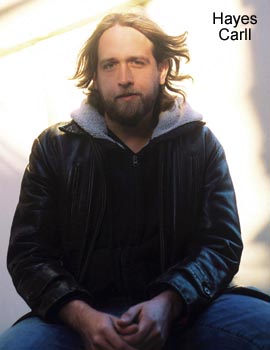 Hayes Carll has just released his third album, Trouble In Mind. His first, Flowers And Liquor, for Compadre Records, was produced by Lisa Morales of Sisters Morales. His second, Little Rock, released independently, was produced by R. S. Field. One of its songs, "Down The Road Tonight," made Stephen King's list of 2007's top tracks. And now with Trouble In Mind, produced by Brad Jones, Carll has co-writing credits with the likes of Ray Wylie Hubbard and guest musicians such as Dan Baird, Will Kimbrough, and Fats Kaplan. Plus it's on the "label of the iconoclasts," Lost Highway.
Appearing: Thursday April 24th at Schubas in Chicago.
Carll is the newest addition to the long line of renegade musicians who combine folk, country, rock, a little blues, and honest, usually smart lyrics, into music that fits no niche but their own: Guy Clark, Lyle Lovett, Willie Nelson, Billy Joe Shaver, Robert Earl Keen, Townes Van Zandt, Kris Kristofferson . . . the list is long and impressive (and that's without including "nearbys" such as Louisiana-born Lucinda Williams). Colloquially referred to as the Texas Troubadours, they are a select — not to mention selective — bunch. They are also supportive, and they've taken Hayes Carll in.
Carll was born and raised in the planned community of Woodlands, Texas, outside of Houston. A town that isn't likely to breed anything more revolutionary than future country-club members, it's about the last place to give rise to a rebellious singer-songwriter. It did, however, and how it did sounds like something straight from an earlier era. "I was a restless kid," Carll says. "I started reading Kerouac and listenin' to Dylan and the magic of this world got me excited and made me want to get out and hitchhike my way across America and soak it all in. Where I was living was light years from any of that."
Part of the magic came from music. "We used to go to the Unitarian church," Carll relates. "The Unitarians aren't known for their choirs, so they bring in people to sing. One day it was this folk group and they did three Bob Dylan songs. It's corny, but it really did change my life. I walked out with a new appreciation of the power of song, went home and asked for a guitar. My folks got me one and I started diving into the seedy world of songwriters."
Carll's next step was to head to Hendrix College, a small liberal-arts school in the equally small town of Conway, Arkansas — not exactly the bold jump into America that he had been planning, but it did result in a degree. "Hendrix said they had a radio show that freshmen could be a part of," Carll says. "It looked like a cool place, so I decided to go. It was kind of on a whim."
From there, Carll started to live the Kerouacian life, spending a summer in Iowa, six months in Croatia, a while in Austin. Eventually, he settled in a remote cabin in Crystal Beach, on the Bolivar peninsula across the bay from Galveston, Texas. Home of shrimpers, drug dealers, and others who wanted to drop out near the ocean, Carll worked odd jobs and began to write and perform in earnest, mainly at the Old Quarter in Galveston. He was there for three years.
"I never had a band," he says. "I was always solo and I was tryin' to emulate the guys that I like. So for a long time everything that I sang sounded like an 18-year-old kid trying to sing like Bob Dylan or Lyle Lovett, which is fairly ridiculous. But then, when Bob Dylan was 18, he was an 18-year-old tryin' to sound like Woody Guthrie, so I try not to beat myself up over it too much."
— M.S. Dodds
For more on Hayes Carll, grab the April issue of Illinois Entertainer, available free throughout Chicagoland.