What Made Milwaukee Famous
And What's Making Them Stronger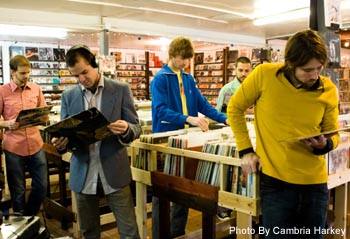 The funny thing about Myspace is getting to know someone is as easy as scanning their page, sometimes easier than actually talking to them, or in this case conducting a phone interview. Pertinent info is just a mouse click away. Surveying What Made Milwaukee Famous founder and frontman Michael Kingcaid's profile, one deduces he's married to a sprightly blonde he attended high school with back in Katy, Texas, loves Urban Cowboy enough to actually highlight it in a list, and, judging by his photos, likes to cut a rug at semi-formal outings.
Appearing: March 22nd at Metro in Chicago.
Basically, he's a normal 32-year-old Libra with a college education who might spawn children someday. And he looks like a leaner, cuter Dave Grohl crossed with "Lost" star Matthew Fox 100 days out on the island.
But, Kingcaid possesses a not-so-secret identity apart from a ho-hum day job at a company that sells and manufactures industrial computer keyboards and monitors. It involves zigzagging around the country with four other day-job ditchers and a bevy of instruments to open for the likes of the semi-reunited Smashing Pumpkins or appear on revered PBS concert series "Austin City Limits."
Hardly an average existence, even for an Austin transplant.
Calling in after a mind-numbing commute and a day trying to fulfill the band's obligation to Uncle Sam before April 15th, Kingcaid sounds weary on the other end of the line. "We've been pretty lucky about having these day jobs, but it's almost like burning the candle at both ends. And just sitting in traffic for an hour and a half of my life a day — it just kind of eats at my organs because I feel like I could be doing so many more productive things with my time," he says. "It kind of tears at you a lot of times, but this is not a sob story. I'm totally one of the lucky ones with the situation I have."
Despite Kingcaid declaring "I've had less than my fair share of lucky breaks" on the band's irrepressible first single, "Sultan," from their sophomore effort, What Doesn't Kill Us (Barsuk), luck seems to be a common theme running through WMMF's career trajectory.
The band came together in a blind-date sort of way when Kingcaid placed a few ads in the Austin Chronicle looking for the basics — drummer, guitarist, etc. Keyboardist Drew Patrizi answered first, followed by bassist John Farmer (friend and drummer Jeremy Brush joined later). "It is pretty remarkable. I mean none of us knew each other before," Kingcaid admits.
In no time the quartet "clicked" and started writing songs immediately, at least eight or nine in the first three months. Careful not to count their chickens before they hatched, the band stayed underground for a year, recording demos in Kingcaid's home studio and feeling each other out, before emerging onto a live stage. The band quickly generated healthy buzz around Austin, self-released an album in 2004, made history as the only unsigned act to appear on "Austin City Limits," and played riveting sets at the South By Southwest music conference.
Barsuk Records signed the band and re-released (albeit with a slightly different track listing) their debut, Trying To Never Catch Up, in 2006. "We've had good things happen all along, but moments that have transpired over the last two or three years have been kind of pretty monumental and they've come pretty quick, so it's been kind of a whirlwind," Kingcaid explains.
— Janine Schaults
To find out what kind of gerkins are in Kingcaid's whirlwind, grab the March issue of Illinois Entertainer, available free throughout Chicagoland.