William Elliott Whitmore
Reggie's Rock Club, Chicago
Friday, January 18, 2008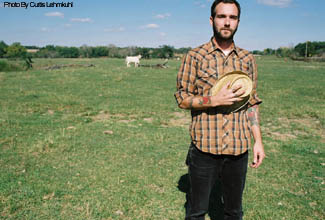 It has become tradition when William Elliott Whitmore plays Chicago for audience members to continuously feed him booze. Couple that with the fact each time Whitmore comes to town he plays a bigger venue, which means even more fans, which means even more whiskey shots.
Whitmore didn't ask his audience to bring him alcohol, mind you. To the contrary, in fact: He actually had to ask them to stop bringing him alcohol. Fans rushed from stage to bar fetching shots of Jameson with the eagerness of day-after-Thanksgiving early-bird shoppers trying to nab the last 25-percent-off flat screen. "I don't need any more whiskey," Whitmore insisted – pleaded – toward the end of his set Friday night, just before "Johnny Law." Eager to please those who trooped to the near South Side in the blistering cold, though, he tipped his head back and dumped one more down the hatch.
It might have been one too many. Fans, though certainly well-intending, may have been to blame for Whitmore's uncharacteristically sloppy set, though a number of other factors, mainly rustiness (Whitmore has been holed up recording a new album for months; Chicago was the first of a two-show break), surely played a role. Any which way, the country-boy bluesman wasn't as crisp as usual. He apologized immediately after the second song, "Dry," for his out-of-tune banjo, but it remained an annoyance all night, resonating awkwardly during songs such as "Everyday." Even his voice failed him a few times. Maybe that should be expected with someone who has a habit of pushing his ravaged howl to its limits, but Whitmore generally has a good feel for his breaking point, which is why his crackled notes on back-to-back songs "Sometimes Our Dreams Float Like Anchors" and "One Man's Shame" was so surprising.
The audience didn't seem to mind, or even notice, the slip-ups, though. Pabst Blue Ribbon tallboys were hoisted in the air each time Whitmore hit the chorus of "Lift My Jug (Song For Cale Hub)," and fans enthusiastically shouted requests once Whitmore told them he would only play songs they picked. "I'm too lazy to make a set list," he admitted. Everyone didn't get their wish (the most solicited song, "Black Iowa Dirt," was omitted – possibly saved for the 21-and-over show immediately following the all-ages gig), but it wasn't for lack of effort: Whitmore wanted to end the set with "Lee County Flood" but was coaxed (rather easily) into two more songs by the crowd.
The night was rough, even clunky, at times, but it's feeling, not just execution, that makes Whitmore special. The execution won't always be there for him, but it's hard to imagine the day when the feeling isn't. After all, as he sang in "Midnight," "The bluebird can sing, but the crow's got the soul."
– Trevor Fisher
Category: Live Reviews, Weekly