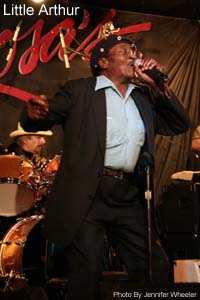 In the liner notes to the Little Arthur Duncan: Live At Rosa's Blues Lounge DVD/CD set (Delmark), writer, producer, radio personality, and all-around blues maven Scott Dirks, referring to the band on the stand, says "This is exactly the kind of music that made Chicago famous a half century ago." I beg to differ. Although the songs on the CD are recognizable as blues, the overall feel has very little to do with the music of Muddy Waters, Howlin' Wolf, Otis Rush, Buddy Guy, and the seething cauldron of hot South and West Side clubs that bred Chicago blues.
Harmonica player/vocalist Little Arthur Duncan moved to Chicago from Indianola, Mississippi in the 1950s, after a stop in Key West, Florida, where he met up with legendary guitarist Earl Hooker, who accompanied Duncan to Illinois. In Chicago, Duncan found himself living in a basement apartment on the West Side in the same building as harmonica great Little Walter. The two became friends, and Walter became a mentor. Duncan worked a day job, but in the evenings he sat in and hung out at the clubs. He eventually teamed with guitar-playing brothers Hip and Jug Linkchain to form a band that played throughout the city.
A construction worker by trade, Duncan opened his own club in the early '80s when he couldn't work during the cold Chicago winter. His Artesia Lounge on Lake Street played host to some of the West Side's best, including Tail Dragger, Johnny Dollar, Johnny B. Moore, Milton Houston, Little Smokey Smothers, John Littlejohn, and others. When Artesia folded, Duncan opened Backscratcher's Lounge on West Madison. He would occasionally come from behind the bar to sit in but was mostly content to run the club. It wasn't until Backscratcher's went under that Duncan jumped into performing full-time.
Duncan is a blues shouter and a competent harmonica player with a charismatic personality. His band, The Backscratchers, comprises veteran musicians Rick Kreher (guitar), Twist Turner (drums), Illinois Slim (guitar), and Michael Azzi (bass). Live At Rosa's Blues Lounge reprises chestnuts such as Willie Dixon's "Little Red Rooster" and "Young Fashioned Ways," Howlin' Wolf's "How Many More Years" (re-titled "No Place To Go"), Slim Harpo's "Scratch My Back," mentor Little Walter's "Blues With A Feeling" and "I Got To Go," Roosevelt Sykes' "44 Blues," and Arthur Crudup's "Mean Old Frisco Blues." Vocalist Little Al Thomas is featured on Dr. Clayton's "I Got To Find My Baby." Duncan contributes four uptempo originals; his "Bad Reputation" is reminiscent of Howlin' Wolf's classic, "Killing Floor."
Despite its stab at authenticity, Live At Rosa's has little to do with Chicago blues' heyday. The songs are there, the notes are there, but the soul, the spark that made Chicago blues so compelling (especially the West Side blues of Wolf, Magic Sam, and Rush) is sorely lacking. Little Arthur has it somewhat, but The Backscratchers' emotionless stage presence (on the DVD) negates what the blues is mostly about: feeling. If you are going to play it real, then you've got to really play it!
NEW RELEASES: Soulful Sounds (The Sirens) is a traditional gospel recording by brother and sister Donald and Geraldine Gay. Geraldine was part of The Gay Sisters Trio along with sisters Evelyn and Mildred. The Gay Sisters were key players in Chicago's Golden Age Of Gospel during the '50s. Younger brother Donald began appearing with his sisters when he was 6-years old, and his first show with them was at Carnegie Hall! Another brother, Robert, was a jazz trumpet player.
Pianist Geraldine and vocalist Donald are the surviving members keeping the family musical legacy alive. Soulful Sounds is a beautiful, low-key recording, featuring Geraldine's jazz-inflected gospel piano (she was dubbed the "Errol Gardner of gospel" by writer Anthony Heilbut) and Donald's stirring, rich, and powerful vocals (he is currently pastor at the Prayer Center Church Of God In Christ on Chicago's South Side). Drummer Curtis Fondren and bassists Anderson Edwards and Yosef Ben Israel accompany the Gays throughout, but Soulful Sounds is also a family affair: Geraldine's son, Donald "Bozie" Hambric, plays guitar on "Just Another Day," and Donald's son, Gregory Gray, duets with his father on "There Is A Fountain." Especially moving is Geraldine's extended piano solo on the closing track, "God Has Been Good To Me" . . . Low On Cash, Rich In Love (Alligator) by guitarist/vocalist/harmonicist/songwriter Eric Lindell represents a new direction in Alligator's arsenal. Lindell's 11 originals mine New Orleans soul, funk, rock, and folk. A highlight is the funky Gil Scott-Heron tune, "Lady Day And John Coltrane" . . . Raisin' A Ruckus (Alligator) is the third label release for East Coast jump blues band Roomful Of Blues. Roomful have changed personnel through the years, but their sound remains remarkably fresh. Gritty vocalist Dave Howard joins long-standing members Rich Lataille (alto and tenor sax) and guitarist Chris Vachon.
REISSUES: Stevie Ray Vaughan & Friends: Solos, Sessions & Encores (Epic/Legacy) should have been reviewed along with Pride And Joy in my November column, but I didn't realize it was in the same envelope until I nearly threw it away. Anyway, it's a great historical document featuring live and studio performances by Vaughan and friends such as Albert King, B.B. King, Paul Butterfield, Marcia Ball, Albert Collins, Johnny Copeland, A.C. Reed, Bonnie Raitt, Jeff Beck, Dick Dale, brother Jimmie Vaughan, and David Bowie. Some performances are previously unreleased, which makes this a must have for Vaughan fans. Stellar tracks include Collins' "Albert's Shuffle," "Don't Stop By The Creek, Son" with Copeland, and "Miami Strut" with Reed.
– Beverly Zeldin-Palmer
Category: Columns, Monthly, Sweet Home