Bell X1
Delayed Flight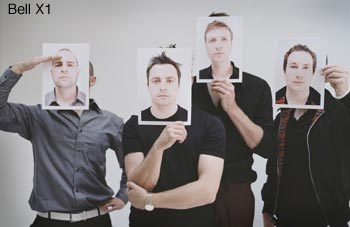 Situated knee-deep among T-shirts and other band paraphernalia (monogrammed teapots anyone?), Bell X1's Paul Noonan dreams of the great American landscape while tirelessly sorting through pre-holiday merchandise orders. Such is the life of a Dublin-based DIY musical outfit.
Appearing: March 19th at Schubas in Chicago.
The Stateside longing comes with good reason. After years of unsuccessfully lobbying Island Records to release their albums outside of Ireland and the U.K., let alone tour overseas, Bell X1 finally have a chance to see if their popularity can transfer across the pond. It only took parting ways with the recording behemoth to get the job done.
"It's very different being on a major label when things don't happen unless they happen on a grand scale," Noonan says over the phone from Ireland. "In terms of wanting to get the record out across Continental Europe and America, they knew it was something we really wanted to make happen, but such is the machine that it didn't unless we sold millions of records in the U.K. . . . so we decided to take it into our own hands."
Yep Roc Records releases the band's third album, Flock, in the U.S. on February 19th following a showcase gig in New York City at Joe's Pub and an appearance on NBC's "Late Night With Conan O'Brien" in January. A tour of major American cities is scheduled for early March, which brings Noonan back to those notions of exploring our oft-depicted frontier.
"I have this romantic notion of traveling coast to coast on a bus in the States and stopping in Wyoming for pancakes. I want to see the square states — the Dakotas, Idaho. I want to touch and feel these exotic places. I'm sure any romantic notions will be shattered once I get there," Noonan jokes. "I'm a big fan of movies like [David Lynch's] The Straight Story — movies that are set in these parts of America and [I] would love to spend some time there."
Along with guitarists Dave Geraghty and Brian Crosby and bassist Dominic Phillips, Noonan can't wait to bunk on a bus, gorge on episodes of HBO's "The Wire," and shine up the now two-year-old songs for a whole new audience.
"We're still quite like kids on a school tour about touring. It's still quite a novelty for us. The idea of being on a bus for six weeks or so doesn't freak us out," Noonan says before adding, "Ask me when it's done."
Despite the lack of exposure, American audiences aren't totally unfamiliar with the band's output, even if they might not be able to put a name to the kiss. Fans of Fox's hit teen drama "The O.C." first heard Bell X1 playing in the background when doe-eyed drunk Marissa played lesbian tonsil hockey with Bait Shop punk Alex. And before the Writers Guild strike shut down production on ABC's "Grey's Anatomy," the Noonan-penned "Some Surprise" accompanied yet another grim diagnosis on the amorously challenged medical drama.
Noonan still hasn't seen either show, but doesn't regret permitting the use of the tunes. "I kind of have ambivalent feelings about it. People made a big deal about 'The O.C.' at the time and as far as I could tell nothing really happened," he explains. "I think a lot of music that's placed in these shows is done so and by folks who think because the music isn't known in the States yet . . . part of the thinking is should we become really successful then the show would kind of benefit from being perceived as a taste maker."
Or Bell X1's music just naturally lends itself to emotionally charged moments, much like the band's history. The lads met in school in 1991 and coined the name Juniper with Noonan hiding behind his drum kit and fellow school chum Damien Rice fronting the group. A six-album deal with Polygram followed and while two singles saw the light of day and climbed the charts, a full-length LP never surfaced. Rice left the group to pursue what eventually turned into a multi-platinum solo career. The remaining members regrouped, changing the band's moniker and placing Noonan front and center.
Unlike Rice's moody and volatile folk songs, Bell X1 plunge headfirst into romance's more optimistic waters. At least in Noonan's hands, unrequited longing isn't accompanied by a noose. Instead, Biblical imagery and metaphors populate the alternating sincerely sentimental, overreaching, and riotous material. Devils engage angels in games of poker ("I'll See Your Heart And I'll Raise You Mine"), snakes tempt and bewitch in pear-shaped gardens ("Eve, The Apple Of My Eye," "Snakes & Snakes"), and a lover's flesh takes the place of Holy Communion ("Flame").
Noonan cites Ireland's Catholic tradition for beating the images into his consciousness.
— Janine Schaults
To see just how involved the Church is in Noonan's subconscious, grab the February issue of Illinois Entertainer, available throughout Chicagoland.