The Ocean
Precambrian
(Metal Blade)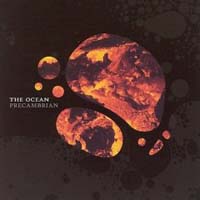 Berlin-based prog metallers The Ocean take their chosen moniker seriously, filling the Precambrian seas with all manner of metal-related creatures.
While the album title is meant to evoke the volatility of the nascent Earth, there's little that's primitive or underformed on The Ocean's five-part epic. Spanning two discs and split into sections named for geolithic eras, the scope is, as one might expect, profligate.
The Ocean have always trafficked in guest vocalists, and Precambrian is no different. Kevin Spacey(!) can be heard reciting a monologue lifted from The Life Of David Gale on "Statherian," sternly counter-pointed 10 minutes later when Nico Webers unleashes a gutteral howl for "Calymmian" that's more appropriate for the score. Such is the range of Precambrian: seconds after a piano deals a minuet, down-tuned, distorted guitar chords are ramming the gates. Pulling from metal influences as disparate as Neurosis is from Iron Maiden, or as Dream Theater is to Mayhem, the album's sprawl can be both hypnotizing and dull. Unfold the nets, and see what you can dredge up.
6
— Steve Forstneger