Scottland Yard Gospel Choir
Welcome To Splitsville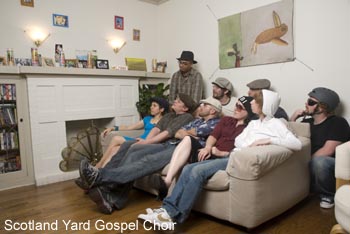 Elia Einhorn, the man behind Chicago collective Scotland Yard Gospel Choir, warns you should always know exactly who you plan on serenading. After leaving rehearsal recently with a few of his bandmates, Einhorn had the spontaneous idea of playing a song for a couple that happened to be in an embrace nearby. When the musicians greeted the couple with a well-intentioned ode, their efforts were met with tears. They had inadvertently serenaded a break up.
Appearing: 12/14 at Flatlanders (200 Village Green) in Lincolnshire, 12/15 at The Note (1565 N. Milwaukee) in Chicago.
"We were strolling across the street to them thinking we were providing romantic backing for their amorous activity," explains Einhorn on the phone from his Chicago apartment. "Man, not at all. When the guy moved and we saw the girl's face and she was weeping, we just felt like absolute shit. It was like 'Get in the car! Get in the car! Let's get out of here!'"
It makes for a funny story, but its also a not-so-friendly reminder that behind SYGC's two-minute pop songs, not everything is always as it seems. The band might have a new, self-titled album out on Bloodshot Records and a national tour this fall, but the road to this point has been tough for Einhorn. Perhaps hitting the hardest, was SYGC cofounder and songwriter Matt Kerstein's departure following the success of the band's first album, I Bet You Say That To All The Boys.
The self-released album put SYGC on the map quickly, as it won over the local press and got the band on bills with the likes of Arcade Fire and Violent Femmes. But without a label or a booking agent, and with a hectic touring schedule, these musicians were running ragged.
"We were hustling all the time and it was really, really rough on us," Einhorn says, "We were all working crappy jobs to make a little money to get by. Some of us were still in and out of school."
As Einhorn and Kerstein started writing new material for a follow-up, the songwriters' styles began to drift apart. Einhorn says it was that creative difference that eventually motivated Kerstein to go his own way.
"He was very influenced by bands like Van Morrison and Bruce Springsteen and he wanted to pursue that kind of sound, which I had no interest in at all. I wanted to go The Smiths and Stone Roses road and the bands I grew up listening to. Matt thought, 'We're working so hard and we're all broke. I think I need to have my own band, if I'm going to put this much into it.'
"It was an adjustment at first," Einhorn continues. "We seriously considered breaking up, but then I realized that if everyone else is staying, why should we break up? More of my songs were on the first record than his. My songs were the A-sides or the singles. It would have been just ridiculous to throw everything I had built away."
The band's perseverance paid off in the form of a deal with Bloodshot. Einhorn had pitched a country-leaning side project to the label, but to the singer's surprise, Bloodshot took interest in SYGC. After all, the label has been known for its "insurgent country" artists like Jon Rauhouse or The Bottle Rockets. Why would Bloodshot be interested in a pop band using horns and cellos?
"Because we love the music," says co-owner Nan Warshaw via e-mail. "Bloodshot has always been an indie rock label, albeit one with roots inflections. Over time we've had the freedom to diversify; it's the same road but with a few more lanes. Our roster today includes the Gore Gore Girls, The Detroit Cobras, Ha Ha Tonka, whom each have distinctively different styles and influences."
Bloodshot signed the band without knowing about Kerstein's departure. It wasn't until later Warshaw called Einhorn inquiring about the band's lineup change.
You really can't blame Bloodshot for not noticing. SYGC gets labeled as a collective for good reason. According to Einhorn, the band has been through 75 musicians since its inception. There's a core of about six, but even that rotates, and the group expands to nearly 15 members for certain live performances.
"Sometimes it feels like I'm going through musicians like water. It's always amicable, its never like, 'Fuck you, you're out of the band.' It's like, 'Well you play pedal steel and you're going back to school. O.K., we'll find a new pedal steel player who just moved to Chicago,'" Einhorn explains.
A glance at the album's credits shows quite a few notable contributors: Sally Timms (Mekons), Nora O'Connor, Kelly Hogan, Matt Priest and Megan O'Conner (Canasta), and Brett Whitacre (Th' Legendary Shack Shakers).
"I write all the songs and I produce the record along with our bass player and engineer, Mark Yoshizumi," Einhorn says, "I do all that stuff. I arrange the songs, but if it wasn't for these talented people who were floating in and out of the band, there wouldn't be a Scotland Yard Gospel Choir or it wouldn't sound the way it does."
For a long time, that sound was repeatedly compared to Belle And Sebastian, a similarity Einhorn admits is present, but believes was perpetuated in part by "lazy journalism." Einhorn goes so far as to read to me names from a stack of CDs in his apartment to prove the range of his influences. Sure, Belle And Sebastian are there, but so are Aretha Franklin and Phil Spector.
"We are friends with Belle And Sebastian. We didn't understand back then that it might come back to bite us and it did, but that's all behind us," he says.
Now with Einhorn as the center of the circle, he is making an effort to move away from Belle And Sebastian musically. The album opens with two rockers that invoke The Pogues or The Clash, before quieting down into more mellow indie rock like Okkervil River. And a few of Einhorn's songs feature female-only vocal performances.
"I think my voice is suited for some of the songs," Einhorn says, "but it would be folly for me to assume just because I write them that I'm the best person to perform them. The girl who sings a few of the songs is Ellen O'Hayer, who has been in the band on and off for five years. The reason I love her voice is because it's so lonely. It's such a heartbreaking voice. She's my favorite pop singer alive. It's such a blessing to be able to work with her in that regard. Also, Sally Timms — I adore her voice. I write with people's voices in mind and I know who's going to sing."
That didn't stop him from writing a very autobiographical album, delving into topics ranging from his time spent as a drug dealer ("Aspidistra") to his parents' long divorce ("Then And Not A Moment Before"). In our conversation, he speaks candidly about his past substance-abuse problems and gives insight into the kind of guy he is trying to be now: a staunch and outspoken vegetarian and someone who is "against the image of people who play in bands as hedonistic degenerate types."
Einhorn is obviously a man coming to grips with his past, but staying hopeful for the future, even if that means serenading the broken hearted from time to time.
"I just want to create the most beautiful music as possible," he says, "and live the most fulfilling and broad a life as possible."
— Joseph Simek