Puscifer
The Escape Of Maynard James Keenan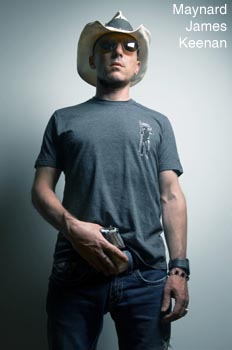 Maynard James Keenan doesn't want to talk about Tool, and if anyone deserves some slack, it's probably him. In the midst of rock's declining presence in amphitheaters and arenas alike, Tool has achieved the unfathomable, pushing its international 10,000 Days tour past the year-and-a-half mark, selling out huge sports stadiums, and daring to emphasize visual art over greatest hits in venues as standardized as Sears Centre in Hoffman Estates.
By some accounts, the tour has reduced a once-confrontational and magnetic frontman — who had been known to don prosthetic breasts, wigs, and body paint to thrill a crowd — to a shaven lump, hidden in the shadows. Daring to become an instrument in voice alone, Keenan lets lasers work the crowd for him. (Perhaps his faithful would be just as pleased with fake snow at a Trans-Siberian Orchestra concert?) On a late-September off date at his home in Arizona, Keenan struggles on the phone with a newly announced West Coast winter leg of Tool's ongoing juggernaut, his voice dead quiet in preparation of a very long winter.
"I'm just kind of burnt from talking about it. People enjoy the shows — that's all they need to know. Come see the show. The show is the show. And there's nothing really to talk about. Just go experience it," he says, sounding totally resigned. "I've been talking about it for three years, you know?" The man needs a vacation. He is nearly 1,000 days into 10,000 Days, Tool's most complex effort to date, written in part as a memorial to his mother, who died in 2003. It's time to move on, he indicates in ways both subtle and overt (up to and including the silent treatment). It's time for a new topic — maybe even a new band, his depressed tone suggests. (It's absolutely not time for that Trans-Siberian Orchestra question!)
Puscifer is Keenan's current side project, a multi-pronged swab of industrial dance, country & western twang, blue humor, and small-run merchandising. To launch the band, he started an independent record label, Puscifer Entertainment, which also distributes CDs from comedians like Patton Oswalt, Brian Posehn, and David Cross, and has the potential to sign comedians, performance artists, and animators directly, Keenan says. "It's still in a very chaotic state. We're not really sure where it's going to go," he says. One thing is certain: Puscifer the band is less serious than Tool the religion. Keenan has another analogy: "If Tool is math class, then Puscifer is recess — recess with the short-bus kids. And home economics. Bake a cake and go out on recess and throw it at each other."
Side projects are nothing new for the vocalist, but this one has been due for a while. Once topics are fully switched to Puscifer, Keenan's mood lightens considerably. "I do different things all the time," he exhales, citing his winery, Caduceus Cellars, as another example. "I've been doing different things since I was in high school. Some of the projects that I've done have gotten a lot of attention, and that's what most people know me about. Some of those are more accessible projects, and so they seem like the only projects I've ever done, and that's not the case." Fans of Keenan's contribution to Green Jellÿ's early-'90s comedy metal ("Three Little Pigs") might assimilate more easily into the jokey world of Puscifer than fans of Tool or A Perfect Circle, but that's going on whimsy alone, not music. Puscifer seems determined to avoid rock 'n' roll while carving out a strange niche of dance and C&W.
The band's debut CD single, "Cuntry Boner (Evil Joe Barresi Mix)" b/w "World Up My Ass (Alan Moulder Mix)," is a stunning collapse of tact for Keenan's progressive track record. While he is expected to lyrically dwell in ills as widespread as child abuse ("Prison Sex"), global warming ("Ænema"), and television ("Vicarious"), "Cuntry Boner" goes where no Keenan song has dared to go before: Graceland. "I fucked Elvis Presley in the bathroom where he died," Keenan slowly drawls over Alfredo Nogueira's earnest lap steel. His "boner won't go down," a hoedown chorus explains. A similar fate awaits Dwight Yoakam, The Judds, the cast of "Hee Haw," and poor, poor Johnny Cash, along with many other C&W artifacts.
The juvenile cover tune was co-written by Tom Morello during his pre-Rage Against The Machine days in Libertyville's Electric Sheep (a band which also featured future Tool guitarist Adam Jones). It's a radical departure from Puscifer's moody industrial work on the Underworld and Saw II soundtracks (the act's only available music preceding the CD single). Keenan promises the band's debut full-length, V Is For Vagina, will continue the "fun." Just don't actually look for "Cuntry Boner" on V. "It didn't fit the vibe of the album," he says. "There are a couple tracks that didn't make it on the album. I like them, but they didn't fit the vibe. Who knows, I might actually put out more of a country album next time."
— Mike Meyer
For more on having to put up with being in Tool, grab the November issue of Illinois Entertainer, available free throughout Chicagoland.