The Good Life
Subterranean, Chicago
Friday, September 28, 2007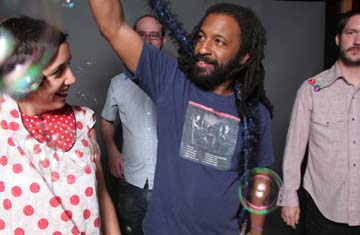 What's in a name? The Good Life seem like a band who might produce happy-go-lucky tunes about the joys of existence – that is, if you go by the name alone. But, the reality is quite the opposite. Lead by Cursive's Tim Kasher, The Good Life rest chin deep in the ashes of love. Hailing from Omaha, the band's fourth full-length, Help Wanted Nights (Saddle Creek), mirrors the barren landscape of their home base and never lets up.
With 10 tracks of longing, bitterness, and no relief in sight, this record might be a dangerous listen for anyone recently suffering from a battered heart and bruised ego. The titles of the tunes even succumb to the maudlin vein running through this beast ("Heartbroke," "You Don't Feel Like Home To Me," and "Your Share Of Men"). Kasher, along with Roger Lewis (drums), Ryan Fox (guitar, keyboard), and Stefanie Drootin (bass), doesn't drown in his sorrows as much as relish them. On the opening track, "On The Picket Fence," Kasher infuses his plea with rock 'n' roll attitude in an acoustic setting.
Written to coincide with a screenplay Kasher began in 2006 and recently completed, Help Wanted Nights strikes the cohesive balance of a continuous storyline. It's one hell of a tale though.
The Good Life play two shows. The first is opened by Capgun Coup at 7 p.m., the second by Fourth Of July at 10:30.
— Janine Schaults
Click here to download "Heartbroke."
Category: Stage Buzz, Weekly