THE LIZARD KING OF QUI
David Yow, Resurrected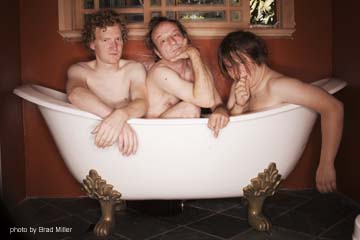 David Yow spent the '90s laying waste to the alternative scene he grew to represent. As frontman for Chicago noise-rock kingpins The Jesus Lizard, Yow made a career out of sadomasochistic stage antics. He mocked Soundgarden, hurled cans of beer at fans, rubbed strangers, and wrenched his naked genitals to an instrumental called "Tight N Shiny." He also sang. In gurgly, strangled monotone, he sang. "Sure I'll have another drink with you," the diminutive ex-Texan would slur, "though I'm already drunk as a bottle."
Appearing: September 28th at Empty Bottle in Chicago.
The Jesus Lizard racked up more than 900 shows. They went from playing backroom dives such as The Dungeon in downstate Charleston, with a capacity of 180, to playing the main stages of 1995's touring Lollapalooza festival. They landed two major-label contracts in the decade: the first, a live one-off with Warner in 1994; the second, a multi-album deal with Capitol in 1995. With ascent came influence. Nirvana chose The Jesus Lizard for a split-single in 1993 ("Puss" b/w "Oh, The Guilt"), and the iconic Seattle band's In Utero follow-up was a nod to Chicago noise rock, with Steve Albini (the recording engineer synonymous with The Jesus Lizard's indie releases) manning the board.
So when the ride started winding down in the late '90s, Yow didn't have too many regrets. He and his bandmates had been able to afford homes, cars, and dental work. "We turned our lives around," said guitarist Duane Denison in a phone interview he gave IE last month. Their second CD on Capitol, 1998's Blue, was a commercial disappointment. A year later, it triggered their breakup. Yow blames unrealistic corporate expectations and mounting bad chemistry after their first drummer, Mac McNeilly, left the band in 1997.
"It just became a job to me," Yow says by phone from his new digs in Los Angeles. "It was no longer fun. We would have broken up [earlier] if we could [have], but we had a three-record contract." Lucky for him, Capitol dropped The Jesus Lizard in 1999. The label bought the band out of their contract, according to Denison. Says Yow, "When our manager called me and said that Capitol had let us out of the contract, I said, 'Great. I quit.' And then we went and played a show in Sweden, and that was the end of that." Yow then retired from music. For a while, anyway.
"After The Jesus Lizard broke up, I had no desire whatsoever to be in a band again," he says, describing a second career in image editing. "I started fucking around with Photoshop around 1992. So by the time we broke up I was pretty good at it. And after we broke up I made a portfolio. And two months after we broke up I was working for a company in downtown Chicago."
— Mike Meyer
Catch a preview, then read the full text in the September issue of Illinois Entertainer, available free throughout Chicagoland.