DigiTech
Vocalist Live 2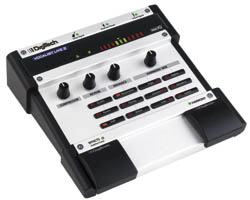 DigiTech's Vocalist Live 2 harmonizer aims to make "chipmunk" harmonies a thing of the past by employing musIQ technology, which reproduces multi-part harmony by analyzing guitar chords. With a simple plug-and-play process, guitarists can play any guitar chord and vocalists know exactly what harmony to create. Users can choose from a 3rd or 5th above or below harmony or unison to create up to two-part harmonies. The Vocalist Live 2 also features the extras you'd expect: compression, reverb and EQ, a chromatic guitar tuner, plus various XLR mic and 1/4-inch line inputs with phantom power. A power supply is also included. The Vocalist Live 2 lists for $499.95. For more information visit www.digitech.com.
Fender
Joe Strummer Telecaster

Though I'm not sure Joe Strummer would approve of his own signature guitar line if he we're alive, there is no denying the appeal of the Joe Strummer Telecaster to Clash fans. Modeled after the '66 Telecaster Strummer played through his years with The Clash, it includes his worn Earl Scheib-style black paint finish, a "Revolution Rock" engraved neckplate, and a limited-edition art-customization kit. List price is $1,285, not cheap for a guy who fought his record company (Epic) for years on high album pricing. This isn't a cash grab by Fender though, this guitar was endorsed by Strummer's estate. Visit www.fender.com for more information.
Propellerhead Software
Abbey Road Keyboards ReFill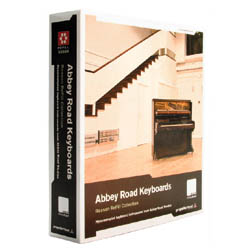 Propellerhead Software's Abbey Road Keyboards ReFill for the company's Reason virtual studio rack will excite Beatles and Pink Floyd fans. It delivers a hypersampled collection of seven legendary keyboards that have been at the studios since the early '60s and were used on some of the most popular albums of all time from A Hard Day's Night to Dark Side Of The Moon. Abbey Road Keyboards was recorded and sampled in the illustrious Studio Two, where The Beatles recorded almost all their material. The entire ReFill process was captured using the same vintage microphones, preamps, outboard processors, and mixing consoles used since Beatles producer George Martin ran the show. Also included with the software is a Guide To Abbey Road Keyboards, a 40-page full-color booklet by Mark Vail (author of Vintage Synthesizers and The Hammond Organ). The booklet provides a behind-the-scenes look at the ReFill recording sessions, the mics, and outboard gear used and the instruments themselves. List price is $229. Check out www.propellerheads.se for full details.
News & Notes
Longtime local guitar experts R&B Productions are hosting their annual Chicago Northwest Vintage Guitar Show August 26th at The Marriott in Hoffman Estates. Guitars, amps, and parts will be traded, sold, and admired. This is a great way to sample multiple Midwest guitar stores under one roof. Call (847) 931-0707 for details.
– David Gedge