Renowned actor Stan Shaw (Roots, Harlem Nights, The Great Santini, Fried Green Tomatoes) helped kick off the Bronzeville Film Festival in June, at the Carruthers Center For Inner City Studies at Northeastern University. Shaw was there to talk about his upcoming film Roots Of My Father, Blues Royalty, a documentary about his famous father, Handy Award-winning saxophonist/bandleader and Howlin' Wolf alum Eddie Shaw, and brother, guitar phenom, and integral member of his father's band, The Wolf Gang, Eddie "Vaan" Shaw Jr.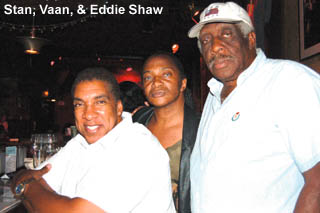 Shaw the actor eclipsed Shaw the filmmaker. He showed a brief clip of the film, which will be completed summer 2008 and promises to be a fitting homage to father and son and their blues legacy. Shaw said he will travel down South to interview folks from his father's haunts in Miss-issippi. The clip included performance footage and interviews with father and son – Eddie providing insights about the music business, and Vaan talking about the art of music. Eddie and Vaan were in attendance and received a rousing ovation from the audience.
The college crowd focused more on Stan and his three-decade career in the film industry. Having worked with some of the biggest names in the business, Shaw was remarkably candid and down-to-earth, as he talked about friendships with Sammy Davis Jr., Henry Fonda, and James Earl Jones. When he received questions from awestruck fans about working with Eddie Murphy he made it clear the bigger thrill was working and becoming friends with infamous comedian Redd Foxx.
The one music-related question elicited an intriguing response: An audience member asked Shaw why, coming from a musical family, he chose a career in acting, rather than music. Shaw responded that acting had sparked his imagination more than music. He went on to say he and Vaan have a CD in the works. "It will be one of the most amazing blues CDs ever recorded . . . both live and in the studio. I haven't chosen a label or release date as yet. I'll wait until I've spoken with my friend Quincy Jones."
NEW RELEASES: Keep On Marchin': Live In Burlington, Vermont (Songs Of The South) is the first DVD by bluesy north Mississippi hills country/jam band the North Mississippi Allstars. Recorded at Burlington's Higher Ground in 2005, the Allstars, consisting of brothers Luther (guitar/vocals) and Cody Dickinson (drums/ percussion/keyboards) and Chris Chew (bassist), are captured by six high-definition cameras on a near perfect night of music making.
The Dickinsons remind me of the Wooten brothers (Bela Fleck & The Flecktones) in their sheer creativity and willingness to expand boundaries. Luther opens the show soloing on a modified diddley bow called a Lowebow (a single-stringed instrument with a cigar-box resonator and a broom handle) made for him by his friend and fellow hill-country musician, John Lowe. Cody is a multi-instrumentalist who keeps a keyboard beside his drums to add the occasional chord progression. He steps from behind the drums on one number to perform an extended solo on an electric washboard given to him by a fan. Cody added a wah-wah and effects that take the instrument into previously uncharted territory. The sound is haunting, otherworldly, and sexy at the same time. Cody calls the souped-up washboard his "psychedelic sex machine."
Chew, a longtime friend of the brothers, adds gospel harmonies to the mix. In the DVD's interview section Luther describes Chew's contribution to their sound saying, "We were playing hill country blues, which is a very modal, droning type of blues – there's not a lot of chord changes. But Chris brought in a gospel harmony sense to it with the bass underneath. He just opened the music wide open."
This three-piece configuration falters slightly on the extended solos, where it would be helpful to add another instrument or two. Nitpicking aside, Keep On Marchin' will have you vibrating along with the band. It is 114 minutes of sensual delight.
REISSUE: The American Folk-Blues Festival: The British Tours 1963-1966 (Hip-O) is the fourth DVD release of this series of historic concerts that brought the blues to a European audience. Rockers like Robert Plant, Mick Jagger, Keith Richards, and Brian Jones were said to be at these shows and considered them life-changing.
The British Tours features performances by harmonica giant Sonny Boy Williamson (looking dapper in his bowler hat and accompanying brolley), Muddy Waters, Lonnie Johnson, Big Joe Williams, Lightnin' Hopkins, Sugar Pie DeSanto, Howlin' Wolf, Big Joe Turner, Junior Wells (singing, sans harmonica and doing his best James Brown impression), and Sister Rosetta Tharpe. Waters appears twice – at Free Trade Hall in 1963 as part of the blues package and again in 1964 as part of the American Folk, Blues, And Gospel Caravan. The latter appearance is part of the bonus tracks featuring performances by Waters and Tharpe at a railway station in Manchester and billed as "The Blues And Gospel Train." Tharpe arrives in a horse-drawn buggy in the rain and launches into a spirited version of "Didn't It Rain."
As if the sheer star power of the featured performers is not enough, check out the sidemen: Otis Rush (backing Big Joe Turner), Otis Spann, Matt "Guitar" Murphy, Willie Dixon, Hubert Sumlin, Sunnyland Slim, Clifton James, Billie Stepney, Little Brother Montgomery, Jack Myers, Fred Below, and Cousin Joe Pleasant.
– Beverly Zeldin-Palmer
Category: Columns, Monthly, Sweet Home