Roger Waters
United Center, Chicago
Saturday, June 9, 2007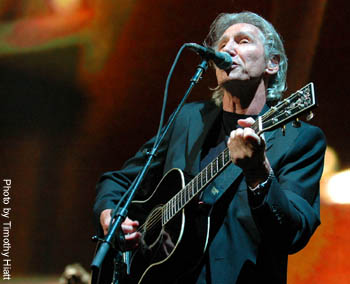 On Saturday fans at the United Center got treated to two shows for the price of one: One by rock legend Roger Waters, and one by an adept cover band.
With no new album to support, the draw was Waters playing Dark Side Of The Moon in its entirety. Separated into two sets, the first was naturally dominated by Waters' own Floyd archive and a nod to his solo works. Opening with "In The Flesh" and "Mother" from The Wall, Waters then gave a tip of the cap Syd Barret with "Set The Controls For The Heart Of The Sun" as images of the old gang flashed on the giant video screen behind.
Throughout the first set Waters was clearly having fun, and the inclusion of "Southampton Dock" and "The Fletcher Memorial Home" from the criminally underrated The Final Cut (which, despite being credited to Pink Floyd, is generally agreed upon as Waters' first solo album) were wonderful additions. The only clunker was an uninspired run through "Perfect Sense" from the Amused To Death solo set.
The set came to a close with a blistering version of "Sheep" from Animals, with all of Waters' legendary crankiness and disdain for the political process in full rage as confetti rained down on the crowd. And yes, the inflatable pig was on hand to swoop over and menace those in attendance.
It's nice to know that although the divorce from Floyd is most likely final, at least Waters got custody of the pets.
After a brief intermission, it was on to the show's billing, and indeed Dark Side Of The Moon was performed.
Therein lies the problem: Moon was truly the last album on which the Floydmates collaborated equally. After that, Waters basically took over the band. So it came as no surprise Waters would pretty much disappear for long stretches of the second act.
He'd still be onstage, mind you, but the heavy lifting was done by everyone else.
This left guitarist Dave Kilminster in the no-win situation of playing the David Gilmour role. While he was able to ape note-for-note the guitar work on "Money" and "Brain Damage," it felt exactly like what it was — session musicians playing a gig. Yet had he varied the riffs, he probably would have been derided for screwing up the formula. It was a damned-if-you-do-damned-if-you-don't situation if ever there was one, and you have to tip your cap to him for being there. And while one cannot ignore the Gilmour comparisons, the set's highlight erased all memory of the original performer as backup singer Carol Kenyon owned the vocal gymnastics of "The Great Gig In The Sky."
When Waters returned to centerstage for the album's climax, "Eclipse," I couldn't help wonder if reversing the sets would have made a very good show a great show.
— Timothy Hiatt
Category: Live Reviews, Weekly