IE Feel We Owe The Tossers An Apology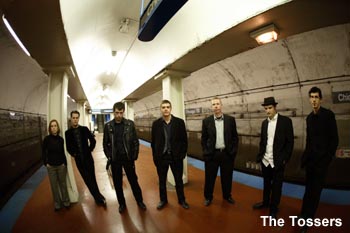 Being the classy gentlemen (and lady) they are, though, The Tossers don't hold a grudge. Sitting in the third-floor green room of Cobra Lounge, tin whistle player Aaron Duggins, older brother/vocalist/mandolin player Tony Duggins, and drummer Bones admit they're still geeked about a surprising cover appearance earlier this year.
Appearing: July 12 at the Irish American Heritage Festival in Chicago.
"Well, we were made the cover!" Aaron exclaims, talking about January's "The 25 Essential Local Albums Of The Last 10 Years" issue. The Tossers' 2000 release, Long Dim Road, made the list.
"In a collage," Bones verifies.
"In a collage," Aaron admits. "We were sitting there drinking. Still, I was there. It was me and D'Arcy," he says, referring to former Smashing Pumpkins bassist D'Arcy Wretzky, one of many Chicago musicians to share that cover with The Tossers.
"Just you and D'Arcy?" Bones asks.
"Just me and D'Arcy."
"Weird," the drummer says, smirking.
"It was weird," Aaron tries to stay serious, "because on the one I [have] I colored everybody else out of the picture, but hey, that's how I roll."
The truth is, The Tossers deserved feature treatment from IE long ago. Chicago's answer to The Pogues, The Tossers' formation actually predates both the Dropkick Murphys and Flogging Molly, two similar acts who have gained more mainstream attention.
Better late than never, right? Plus, it appears we picked a pretty good time. The band released Agony (Victory) a few months ago and are quite confident it's their strongest effort yet. Guitarist Mike Pawula, who, during this interview, is downstairs at the bar with violinist Rebecca Brooke and bassist Dan Shaw (banjo player Clay Hansen's day job prevented him from being present at tonight's private Victory party) even says in the album's promotional materials Agony is a "major step forward."
Aaron doesn't disagree. "I think it's overall everything to do with the record. A new record label [this is the band's second Victory release], the recording sessions went great, and I think the songwriting is at its top form. So I think every album is better than the last one."
Tough to argue. Pub anthems like "Never Enough," "Pub And Culture," and "Siobhan" are extra rowdy, barstool rants like "Political Scum" and "Not Forgotten" extra cynical, and ballads such as "Claddagh" extra touching. More than anything, though, The Tossers, as musicians, are on top of their game. "I think we're definitely playing better as a band," Bones offers.
Agony was recorded with Andy Gerber (Local H, Smoking Popes) at Million Yen Studios in Chicago, the same place as its predecessor, 2005's The Valley Of The Shadow Of Death, and from hearing Aaron, Bones, and Tony talk, likely the same place all future Tossers albums will be done.
"We found a great person to work with and help us make the records in Andy," Aaron says. "He cracks the whip on us, he says it's like herdin' cats to get us together and get us in the studio, but he loves the music, like the Irish folk music, anyway. So having somebody that's familiar with that helps out."
"Working with Andy is the first time anybody has really pushed us," Bones adds. "A lot of people ask like 'Well you good with that?' and we say 'Yeah, we're fine with that.' With Andy it's a little bit like, if he's not good with it, then you go in and do it again."
"Not tediously do it again," Aaron emphasizes.
"Sometimes," Tony answers.
Aaron rethinks. "Yeah, sometimes," he says with a laugh before clarifying. "He wants the album to do well because it's his name too on the record. He loves the band; Andy genuinely loves the band, and he puts 100 percent into the records."
At this point a Cobra Lounge staff member emerges from the narrow staircase that spirals from the main level to the third floor and asks the Duggins brothers and Bones, who are all milking the last few sips of their current pints, if they need any brews. Asking The Tossers if they need any brews is like asking a pastor if he needs his Bible. "I don't have Guinness in a can, and I'm not carrying up a fuckin keg," the man says, obviously keen to the group's thirst for the dry stout ale.
Bones suggests Amstel Light. Aaron quickly agrees, and his older brother approves with a nod of his head. For a frontman, Tony isn't the most talkative fella. Never rude, standoffish, or uninterested, just quiet. Onstage later that night he's the center of attention, drunkenly joking with the crowd and delivering a fiery performance during his group's brief 30-minute set. But seated on a couch across from Bones and Aaron, Tony is content with finalizing his bandmates' answers with "absolutely" or "definitely."
Prod him with the right subject, though, like the band's hometown of Chicago, and his eyes light up. "I love this town. I really wouldn't want to live anywhere else," he says. "I've thought of that as well, talked about it with people and shit, just you know, in passing conversations I said 'New York is really beautiful, I really like it.' But Chicago is my favorite. It's got everything you could want. You don't have to go too far to get loaded anywhere or hang the fuck out — your friends are everywhere."
The Tossers might not be the first rock band that comes to mind when you think Chicago, but Chicago, and specifically the heavily Irish-American populated Beverly neighborhood they grew up in, very well might be the first thing (or maybe a close second after drinking) that comes to mind when you think Tossers. And they wouldn't have it any other way. Could The Tossers exist in New York City, Milwaukee, or Long Beach? Probably. But would they still be The Tossers so many fans have grown to love? Unlikely. Ethnically blended and deeply blue collar, Chicago molded The Tossers, their frontman insists.
"The best part about [Chicago], to me, is it's a great music city and it always has been. The reason that it is is because it goes hand in hand with being an industrial city, a working-class city. You can see it right out the frickin' windows here," Tony says, pointing to the warehouses that surround Cobra Lounge, which is just blocks from Union Park. "People really appreciate music here 'cause they wanna have a good time. They've spent five days workin' through the week or whatever. They're all these great bands and great shows that came out of here because people didn't want to work a shitty job.
"Because it's a workin'-class city it has always attracted all kinds of folks," he continues. "You can see it in all the different neighborhoods. It's been a big part of our life for sure. You're always conscious of the people around you and the people that make up your life."
The people around you, or in some cases, the ex-Smashing Pumpkins bassist just above and to the left of you on the cover of IE.
— Trevor Fisher