The Faint
Metro, Chicago
Tuesday, May 22, 2007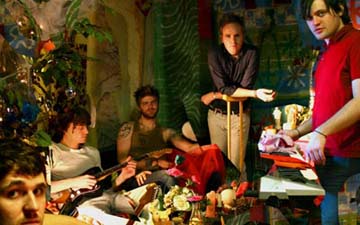 There are a few sure-fire signs summer has begun to hit Chicago. Parking dries up around Wrigley Field, Clark Street gets torn up from the Loop to Lincoln Park, and going to see a show at most indoor venues becomes an endurance test, thanks to the ever-present humidity.
Last Tuesday night at the Metro was no exception. To be fair, a sold-out show in a medium-sized room like the Metro's is sure to swelter no matter who's onstage. Yet it doesn't seem unreasonable to suspect that the temperature increased even higher thanks in no small part to the frenetic energy and electrifying passion of Omaha's The Faint.
In town on the second night of their current tour, The Faint traversed their catalog over the course of the evening, sensibly focusing heavily on the group's two best known records, 2004's Wet From Birth and 2001's Danse Macabre. The evening did contain some surprises however, including label rarities compilation Saddle Creek 50's "Take Me To The Hospital," as well as road-testing newer, yet-to-be released material.
As the temperature rose, so too did the show's intensity, even prompting frontman Todd Fink at one point to remark "You're the best crowd so far," before quickly adding, "Don't get too excited. You're only going up against one other crowd." Yet there was a palpable electricity in the room, and it wasn't just from the heat. By the time the group dropped fan favorites "Worked Up So Sexual," beating the room down with bass and rabid swagger, and anthemic chant-leading "Paranoiattack," the Metro had become a powder keg, set to go off at any second.
Though for all their electro-punk lightning, one song out of the new material, dropped early in the encore, showcased a heretofore unseen side of Omaha's synthiest sons. A markedly slower affair, the song displayed a less urgent and more rhythmic side of The Faint, even going so far as to hint at introspection.
Electro as a whole may be dying, or, at the very least, running out of interesting ideas with each new trend-chasing outfit. But Tuesday night, the genre, melded with a healthy dose of dance punk, reached levels of bombast and friction most standard guitar bands never do. As The Faint continue against the current grain, favoring innovation over image and substance over style, they should have no problem surviving long after the extinction of the current class of hopelessly irony-laden electro-rock poseurs.
— Jaime de'Medici
Category: Live Reviews, Weekly