Kenny Wayne Shepherd
Lights, Camera, Blues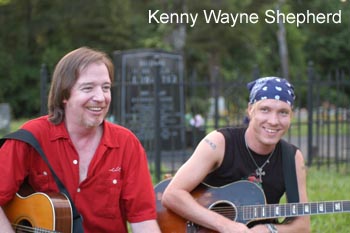 "It's one thing to hear the music, you know, but I think it's something completely different to actually see the people who are making the music doing it as it's going down."
And so Kenny Wayne Shepherd — the blues rock guitar whiz kid who first played clubs at 13, released a platinum-selling debut album at 17, and whose next two albums were both Grammy-nominated — decided to take a film crew, Chris Layton and Tommy Shannon, aka Double Trouble, and portable recording studio with him and go visit veteran Southern American bluesmen. True, a full film crew isn't the standard hostess gift of salad tongs, but the result, Ten Days Out (Blues From The Backroads), is without doubt more interesting.
A DVD/CD that is part updated Alan Lomax-style archival recording, part blues documentary, and part live performance film, *Ten Days Out* features Shepherd talking to and playing with an impressive group of blues patriarchs (and, in at least one case, matriarch). Selected by Shepherd from "stacks and stacks of CDs of blues musicians that were submitted to me for this project," there are artists as well known as B.B. King, Clarence "Gatemouth" Brown, The Howlin' Wolf Band (including Hubert Sumlin and Calvin Jones), and The Muddy Waters Band (with Pinetop Perkins and Bob Margolin, but without James Cotton, for those keeping score). Then there are musicians like Bryan Lee and Buddy Flett, who are known largely around New Orleans and Shepherd's native Shreveport. Most intriguing for blues lovers is the footage of artists who have played the blues almost since it began: Henry Townsend, Honeyboy Edwards, Cootie Stark, Neal Pattman, Etta Baker, as well as those who reached for the brass ring, but never quite got it: Jerry "Boogie" McCain, John Dee Holeman.
If, as a documentary, Ten Days Out sometimes wanders around awkwardly trying to figure out its reason for being, as a chance to watch artists who are rarely filmed, it is unparalleled. That was deliberate. "A lot of these people are really elderly — some of them in their mid 90s," Shepherd says. "Since we've done this, six of these people have passed away. Because of that it's a really great thing we made a film because six of these people, you can't see them anymore. You can't go anywhere to see them perform their music." The deaths of those six — Baker, Wild Child Butler, Pattman, Stark, Townsend, and Brown — lend poignancy to the film and underscore the ever-more-rapid loss of a way of life and group of people who gave rise to one of America's great indigenous art forms.
"You hear it all the time. People say 'Oh, there's this new, hot blues guitar player' or 'This new, young guy playin' the blues,' but when you look at the generation that is represented in this film, they're the originators," Shepherd says. "There's a big difference between those who created it and influenced the path that the music took in the beginning and the people who are tryin' to do it now, including myself. The way that I play is all heavily influenced by the music that they did. They obviously represent a generation of people who are, it's really sad to say, but frankly they're dying off. They're not gonna be here forever. So [this film] is paying tribute to some of the originators and some of the people who probably influenced the music more than most people know."
The people behind the film — Shepherd, producer Jerry Harrison, director Noble Jones — attempted to convey authenticity of musician and, by extension, performance. Many of the performances are acoustic, set outdoors or, in the case of Baker, in her kitchen; those that are electrified and in clubs try to evoke a "real" blues club feel. ("Well to some degree," Shepherd admits. "In New Orleans, that bar was the place Bryan Lee was playing on a regular basis. We had to be out of there by 11 o'clock in the morning, so we loaded in and started setting up for that at 5 o'clock in the morning.") The literature surrounding the film boasts there are no overdubs or technological repairs; in truth, given the level of talent and the amount of experience, they shouldn't have been necessary.
It helps that the musicians are relaxed on camera. Townsend and Edwards joke; Stark and Pattman are as comfortable with each other as favorite slippers; Etta Baker apologizes for her kitchen; Clarence "Gatemouth" Brown snaps at the piano player in the band. "I agreed with him," Shepherd says. "I knew exactly what the problem was when he stopped the band and he was right. But you know, he always had been kind of a cantankerous guy. Very opinionated. He's one of those old guys who was just set in his ways, man, and if you're dealing with him, you talk about what he wants to talk about, you do things the way he wants to do 'em, and that's just what you get when you deal with Gatemouth Brown."
Some of the ease surely comes from Shepherd, who is respectful without being deferential. His song with B.B. King is case in point. "Every time I play with B.B. King, I hesitate because I don't want to play all over him," Shepherd says. "I don't want to be disrespectful. I've seen some guys get on stage with him and they just play so much and they won't stop playin', y'know? It's like they're trying to steal the spotlight from him and you can't steal the spotlight from a legend. You just can't do it. And so I'm not even gonna try. I'm just going to be happy sharin' the stage with him, play my part when it's my turn to play, and then politely bow and take a step back and watch the man do his thing."
There are different styles of blues represented on the film, from Brown's eclectic Texas blues to King's quintessential Chicago blues (reflected again in Muddy Waters' band), to Shepherd's own Stevie Ray Vaughan-influenced roadhouse style. One of the lesser known styles is "Piedmont" blues, played by Stark and Pattman and Baker. "I've not been too familiar with the Piedmont style of blues," says Shepherd. "In my experience with the blues, the music that I was drawn to was more Chicago/Mississippi blues and Texas roadhouse blues. So when I heard these guys I didn't really realize that this was a whole style that I was basically unaware of. For the most part, playing with Cootie and Neal, I think that's an old-fashioned country-blues sound and they just kind of call it the Piedmont style. It does sound different than Delta blues. Definitely has its own vibe to it, but it still is that old-fashioned kind of country blues sound."
Shepherd plays the songs the musicians wrote rather than the other way around. Most of the time, he was familiar with the song — or able to learn it quickly because he was familiar with the style. But with Baker, it was different.
"Her style of Piedmont blues tripped me up," Shepherd says, "because it was very unpredictable. Her changes were sudden. They weren't your standard one-four-five changes. You can see [in his performance with Baker on film] that I have this kind of confused look on my face and I'm starin' right at her hands 'cause I'm tryin' to follow what she's doing, y'know? It definitely put me on the spot. It tripped me up a bit. The most unique sounding Piedmont blues style that I heard was Etta's because it was not your average blues progression and it had a little more folk to it, you know what I mean? I've heard a story that Bob Dylan went and found her and spent his 21st birthday at her house tryin' to learn how to finger pick and play her style of music, so I would say it's really more of a folk, bluegrass kind of blues style. It is really interesting, and it took me by surprise, to be honest with you."
— M.S. Dodds
For the full story behind Kenny Wayne Shepherd's movie, grab the February issue of Illinois Entertainer, available throughout Chicagoland.