Trivium
Born From Metallica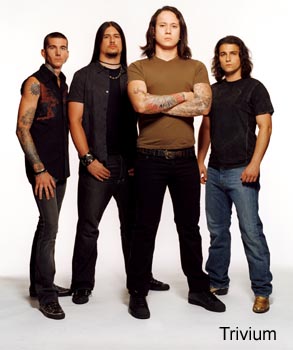 In the young lives that comprise Florida thrash metal band Trivium, there has never been a world without Metallica. Drummer Travis Smith was born in 1982, the year Metallica's No Life 'Til Leather demo tape emerged. Lead guitarist Corey Beaulieu was born when Kill 'Em All surfaced in 1983. Bassist Paolo Gregoletto was born in 1985, the year Metallica first brought thrash to the Monsters Of Rock festival in England. And lead vocalist/guitarist Matt Heafy was born in 1986, when Master Of Puppets first pulled strings, twisted minds, and smashed dreams the world over.
While Trivium weren't exactly headbanging in their cribs, there is a sort of lifelong link they've had to Metallica. It's a sacred connection that has culminated recently in one high-profile cover tune (Master Of Puppets' title track for Kerrang! magazine's Remastered tribute to it), mutual respect in interviews, and shared bills in the United Kingdom and Europe. The cataclysmic pinnacle: a mainstage opening slot for Metallica at this year's successor to Monsters Of Rock in England. It was a dream gig that just kept getting better for Trivium, Beaulieu explains.
"It's kind of like metal's holy ground," he says of the former-Monsters site at Donington Park. The three-day annual summer blowout, now called Download Festival, drew between 60,000 to 70,000 people the day Trivium played. Headliners Metallica performed Master Of Puppets in its entirety that night in recognition of the album's 20th anniversary. After veering into other favorites and new material, Trivium were invited onstage to join Metallica in a rousing cover of The Misfits' "Die, Die My Darling." Beaulieu was blown away. It was the first time he had gotten to see Metallica, let alone play with them — but joining them onstage during their encore? Was this a passing of the torch?
"You can't really buy tickets for that," he laughs, a little astounded at the kudos. "It's pretty friggin' cool to have people who influenced you kind of giving you the thumbs up." The guitarist, well known for his circular windmill headbang, rests his neck a bit and reminisces at home near Orlando before heading out on a fall U.S. tour in support of Trivium's new CD, The Crusade (Roadrunner). This winter the band will travel overseas again, supporting Iron Maiden on the non-U.S. dates of the A Matter Of Life And Death world tour. Trivium were befriended by Maiden vocalist Bruce Dickinson — a favorite of his kids, Beaulieu says — after being interviewed on his BBC radio show in England. Trivium's U.K. fanbase has been their strongest. Their 2005 CD, Ascendancy, has gone gold in the United Kingdom, and an unauthorized biography has just been published. "We just kind of caught on there," he guesses. It hasn't been the same in the United States.
Turn the page back a year to find Trivium in the midst of an awkward domestic maturation. Before their pairing with Metallica, the band opted to pay to play the second stage at Ozzfest 2005. Beaulieu says it was something they had to do at the time to gain U.S. exposure, but they might not be so quick to rejoin Sharon Osbourne and the gang in future tours. Ozzfest for Trivium was a double-edged sword. They have sold 150,000 copies of Ascendancy in the United States to date, but likely not without Ozzfest's fee. The conversation sours: "If we play Ozzfest again, I'd wanna make sure we'd get a lot of money out of them, just to get the money back that we paid 'em for fucking being on the tour in the first place. I really wouldn't wanna just go through a whole summer on Ozzfest just to be able to say I played Ozzfest. I already did that."
Not surprisingly, summer 2006 saw Trivium playing an Ozzfest alternative in the United States. Sounds Of The Underground started after Download finished, and welcomed Trivium home with payment and the down-to-Earth vibe of Heavy Metal Parking Lot. "Sounds Of The Underground was a lot more mellow and easygoing. It's kind of old-school. Bands do what they want," he says. Trivium shared the bill with As I Lay Dying, In Flames, and Cannibal Corpse, among others. The tour was reaffirming for the group: "It's definitely a lot more band-friendly than having to pay a shitload of money to play for 20 minutes."
Beaulieu hopes the fall headlining tour and The Crusade will balance the scales domestically with their U.K. popularity. The battle is uphill, he acknowledges, but it's a battle inherent in The Crusade — a title chosen to reflect this quest. The CD is a zero-bullshit, long-haired Metallica resurrection, extracting James Hetfield's circa-'83 thrash and voice to tribute-like proportions. The less abrasive but more deliberate metal sound might distance the band from fans who have grown attached to the now-eschewed screaming and brutality of Ascendancy. Comments on the band's MySpace page indicate even older material is now sung live in this new manner. The optimist in Beaulieu says the change might spark new attention from disenfranchised heavy music fans and retro thrash revivalists. It might even trigger a new wave of thrash metal. This was the plan.
— Michael Meyer
To learn more about Trivium's plan, grab the November 2006 issue of Illinois Entertainer, available throughout Chicagoland.