Stars Of Track And Field
Centuries Before Love And War
(Wind-Up)
This indie-rock band began as a four-piece before losing their bassist. Instead of following the traditional route of finding a replacement, they decided to remain a trio and go digital.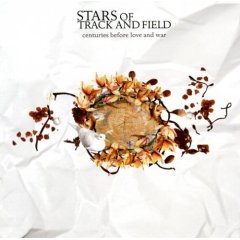 Jason Bell (guitar/vocals) changed his frame of mind with this new setup, saying, "I'm thinking in bleeps and blurps these days as much as I used to think in kicks and snares." Stars Of Track And Field adapted well by incorporating analog and digital samples from a variety of sources such as Aphex Twin, D'Angelo, The Beatles, and Built To Spill. Their debut LP,
Centuries Before Love And War
, is an inventive hybrid of evocative and blissful tunes with phases of puzzling despair that is simply a light and lovely collection.
7
— Jill Haverkamp
Appearing: November 1st at Double Door in Chicago.