ANDY MASON GUITARS
The Mermaid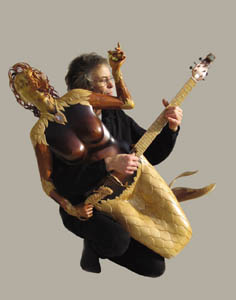 Only a guy who built a triple-neck guitar for Led Zeppelin could devise something like The Mermaid. Part Jules Verne wet dream, part high-end guitar, Andy Manson's "ultimate creation" is available to the highest bidder at Web site www.shop4thelot.com, with 50-percent of the proceeds going to Harvest Help, an organization supporting communities in rural Africa. Built with a cherry and sycamore mermaid body and a maple and mahogany guitar neck and body, The Mermaid is everything you want in a guitar attached to a female fish. In a recent video interview Mason's warm English charm came through as he commented on his three-year labor of love: "As you can imagine, with the time, effort, and materials used in her construction, she is worth a considerable sum. As I stand to make a lot of money from her, I want her existence to benefit others – not just myself and the winning bidder. Naturally, I would love to see her go to a guitar player, though." Bids have reached $20,000 at press time (you must bid in English currency) though you still have time to put yours in for this peculiar, yet lovely lady of the sea. Visit www.andymanson.co.uk for more details.
DNA
Analogic Effects Pedals
Another humbly named music distribution company, Godlyke Inc., is damn excited to be named the exclusive U.S. distributor for the Japanese boutique guitar effects maven, DNA Analogic. The company offers its unique analog circuit design that it claims "offers marked improvements over traditional effects and a refreshing change from the host of 'vintage clones' pervading the marketplace." DNA Analogic effects go back to old-school designs from the mid-'70s, including cast aluminum chassis, heavy-duty metal knobs, "true" bypass switching, a top-mounted in/out and AC jack, and a three-year, no-questions-a sked warranty. Prices start at $299. Get more information at www.godlyke.com.
KUSTOM
DART Series Amps

Made famous by dozens of psychedelic and glam bands of the '60s and '70s, Kustom Amplification is celebrating its 40th anniversary (!) with two series of limited-edition guitar amplifiers, and only 40 of each model will be made. Kustom is calling these vintage re-creations the DART Series, and they're offered in one 12-inch, two 10-inch, and two 12-inch speaker configurations and from 36 to 72 watts of power. Each amp offers a padded "Tuck N' Roll" panel using an original Kustom set-up of Uniroyal Naugahyde, a racing stripe design, and a "1966 – 2006" embroidered logo stitched directly onto the front panel. Pricing was not listed at press time. Visit www.kustom.com to learn more.
NEWS & NOTES
October is when music education kicks back into high gear, and there is one clinic of note coming to town. Hix Bros. Music in Aurora is hosting a Victoria Amplification clinic October 10th featuring Mark Baier, Victoria founder/owner, and acclaimed jazz guitarist Tom Dziallo. For details visit www.hixbrosmusic.com.
Guitar Center's Burbank store managers knew something was weird when they came to work in early August and found a "For Sale" sign on the building. Seems the landlord had his eye on a Long John Silver's for that location. Or maybe it was a Dunkin Donuts or a Subway, because the world doesn't have enough fast-food joints. Either way, things happen for reason. Guitar Center is opening a brand new South Side store at 7250 S. Cicero Ave. in Bedford Park. Grand opening celebration is October 19th; expect free T-shirts, giveaways, and more. For info check out www.guitarcenter.com.
– David Gedge