Dirty Pretty Things
Waterloo To Anywhere
(Interscope)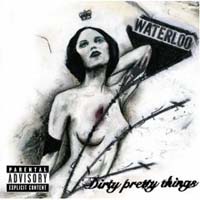 The other Libertine, the one who was able to manage his indulgences and ended up being literally robbed by Pete Doherty, moves on.
It was always difficult to discern which was the real driving force behind The Libertines, and once Doherty left and the band collapsed, you'd think it was him. Beyond that, Doherty's Babyshambles spat out an album despite ongoing legal battles. Carl Barat, who returns to us as Dirty Pretty Things, would beg to differ. Of course, the reality is the Doherty-less Libertines return as DPT — drummer Gary Powell and replacement guitarist Anthony Rossomando are both here — but make no mistake, this is Barat's album. Aided by bescarved Cooper Temple Clause bassist Didz Hammond, Waterloo To Anywhere tries to be tough-as-nails, herion-chic London rock. It's uncanny how similar Barat's writing is to Doherty's ("Gin & Milk," "You Fucking Love It"), even as he's taking shots at him on "Bang Bang You're Dead." But if you were ever into Libertines because of the soap opera — and judging by their U.S. sales figures you weren't — you were overlooking two resourceful pub punk tunesmiths who, by burning the candle at both ends, merit genuine attention.
7
— Steve Forstneger