By David Gedge
JELLIFISH INC.
Hot Rods Bridge Pins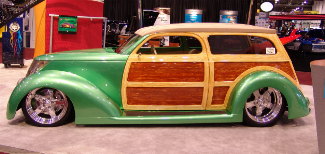 Oak Brook-based Jellifish Inc. has designed another ingenious, yet cost-effective way to increase acoustic guitarists' tones with their new Hot Rods Alloy Bridge Pins. Made from a premium, proprietary alloy, Hot Rods will replace standard bridge pins on most acoustic guitars and add a dramatic splash of color in the process. IE publisher Dave Roberts replaced the pins on his 1970 Martin D-28 with gold Hot Rods and commented he obtained "a richer, crisper tone that was quite dramatic, though the tones were not quite as defined when I changed to a fresh set of strings." I replaced the pins on a Garrison J-45 and a Takamine 1985 12-string and achieved similar results. The Takamine added a ringing and robust Roger McGuinn-like jangle, especially when finger picking with the purple Hot Rods. Packages of six individual Hot Rods – that come in several signature colors (green red, blue, purple, gold, silver) – are $12.95 and available at Sam Ash and other local dealers. Visit www.jellifish.com for more information.
HOTTIE
Custom GT Amp
At first glance the Hottie Custom GT Amp seems like a practical joke. Housed in a toaster (yes, a toaster!), Hotties are solid-state amps fitted where your Wonder Bread went and powered by a nine-volt battery. The GT uses a 6-inch Jensen MOD speaker and has an output jack to drive an external speaker cabinet. The GT's wild design features a vintage automotive-style paint job and kitschy mag wheels. Colors available include gold pearl metallic, cherry red metallic, and competition blue metallic. Hotties will power any four, eight, or 16-ohm speaker cab. The GT sells for $249 – a bargain for a conversation piece and a cool little amp. For more information visit www.hottieamps.com.
CURT SCHELLER
Ukulele For Guitar Players
Ex-Beatle George Harrison received a gift from his good friend Tom Petty shortly before his death – a ukulele. Paul McCartney also gifted Harrison a ukulele. That's when I knew ukuleles were going mainstream. No more Don Ho jokes. No more Arthur Godfrey jokes. Ukuleles were cool. Ukulele For Guitar Players by Curt Sheller bets there's a new wave of guitar players discovering the uke for the first time, or returning to the instrument. Modern virtuosos include Jake Shimabukuro, James Hill, and ukulele jazz legend Lyle Ritz. The book enables guitar players to make the transition to the ukulele by using basic open-position chords, movable-form chords, triads, advanced-jazz chords, and essential scales. An introduction to reading standard music notation on ukulele, Scheller highlights both the similarities and the differences between the instruments. One gets the feeling if George Harrison was still with us, he'd be getting this book as a gift. For more information, visit www.curtsheller.com.
Click here to go to page 2.