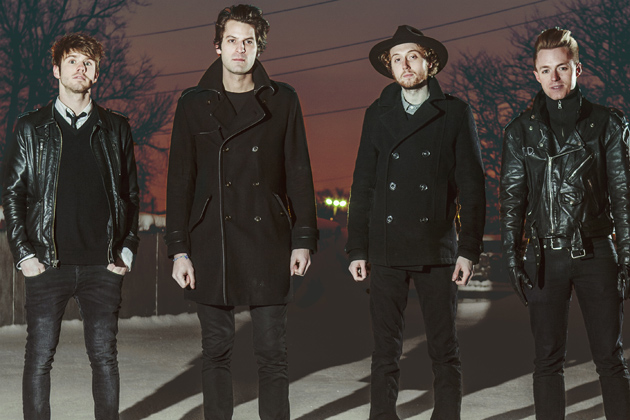 Secret Colours
International Pop Overthrow kicks off its annual visit to Chicago this week on April 10th at Red Line Tap. There will a different multi-act line-up each night at the north side venue through April 19th. IPO originated in Los Angeles in 1998 when Founder/CEO David Bash decided to create a power pop music festival and named it in honor of Material Issue's debut. His first Chicago version took place in 2001, and there are now IPO festivals in other American cities, as well as Liverpool and London. Bash has since widened his net to attract indie rock and folk rock artists.
"Each year it's a challenge to discover bands in whichever city I'm doing IPO," Bash stated during a recent email interview with the Illinois Entertainer. "But with a lot of help from my girlfriend, Rina Bardfield, we work diligently to find new talent to combine with those bands who have played the festival for many years."
That eclectic approach is evident throughout this year's Chicago schedule, which includes IPO favorites like Lannie Flowers, The Abbeys, The Romeros, Van Go, Kevin Lee, and Phil Angotti, as well as some intriguing newcomers. Ben Jones And The Rifle Volunteers will be bringing catchy, soul-tinged pop tunes all the way from England.
"Ben Jones played IPO – New York a few years ago and absolutely fell in love with the city and, by extension, the USA," Bash explained. "He decided to bring his band and tour the entire country in the first half of 2014! Fortunately their tour coincided with IPO Chicago, so we were more than happy to book them, as I think they're an amazing pop band!" Jones is touring with Irish singer-songwriter Andrea Magee, and his band will back her at IPO – Chicago under the name Beat Root.
This year's variety of talent also includes the Chicago-based five-woman band The Ye-Ye's, who cover 1960's hit songs, and sing them in French. Glam rockers The Artist Formally Known As Vince feature dynamic male-female lead vocals, as do The Right Tidys, a five-piece piece band fronted by vocalist Erica Loftus and vocalist-keyboards player Dhyana Brummel. Singer-guitarist Rob Schultz has been known to delve into political satire; Semi Twang mixes country and rock; and The Viaducts are a hard-edged power pop trio led by singer-guitarist Jimmy Rane.
It's not uncommon for acts to use their International Pop Overthrow set to introduce new material. This year, coed rockers Magatha Trysty, who have a few years of  IPO under their belts, will likely be playing songs from their upcoming CD. The psychedelic rockers Secret Colours have been getting a lot of local press later, and will have their brand new Positive Distractions to promote at their IPO gig The International Pop Overthrow website (www.internationalpopoverthrow.com) has the full schedule, with links to just about all the acts who'll be participating. It not only helps in planning a visit to the festival, it's also a great way a discover new music.
"It's been a big help, and since we do descriptions of all the artists playing an upcoming IPO, people can be armed with knowledge of what a band sounds like before they see them!" Bash said. "I also like to think it's attracted artists to play the festival, because the website is quite impressive."
IPO runs  Thurs, April 10th thru Sat, April 19th at Red Line Tap Chicago
– Terrence Flamm
Category: Featured, Stage Buzz, Weekly