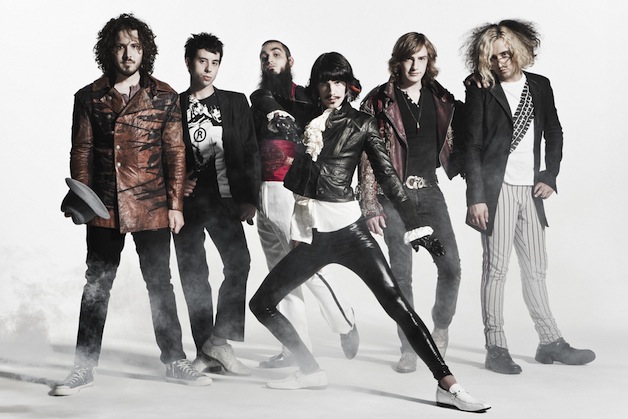 Last Friday afternoon, when my editor at IE asked, via email, if I could squeeze out one final Stage Buzz before the holidays, I was prepared to say no. (I'm traveling, after all, typing this preview on my cell phone from gate K3 at O'Hare).
But this is Foxy Shazam we're talking about. Any role I might play in deterring anybody, anywhere from seeing these prog meets punk rock animals live would be remiss if not downright criminal. The band is hands-down America's nuttiest live act (think Queen meets Iggy Pop and The Strokes).
The first time I saw Foxy Shazam perform (in 2008, to thirty people at the now-defunct Ritz in Warren, Michigan), lead singer Eric Sean Nally bummed a half-dozen cigarettes from fans standing front-row, lit them all at once, and ate them. Four years later I saw Foxy Shazam perform (to five thousand people at Bunbury Music Festival Cincinnati, Ohio), he did the same thing.
See Foxy Shazam before you die. See Foxy Shazam before they die. See Foxy Shazam this Friday, at Mojoe's, if it's the last thing you do this year.
–Matt Pollock
Foxy Shazam appears at Mojoes Of Joliet Friday 12/27. Tickets are available HERE
Category: Featured, Stage Buzz, Weekly