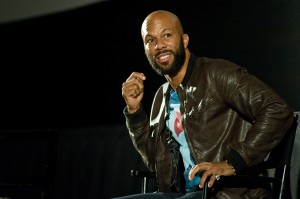 TO COMMON, WITH LUV
Common urges Chicago's youth to stop the violence. This comes mere weeks after local rapper Lil Jojo (Joseph Coleman, 18) was gunned down on the streets of Englewood and inflammatory tweets posted on musical rival Chief Keef's (Keith Cozart, 17) profile caused police to investigate the rising star in connection to the murder. (Keef insists his Twitter account was hacked.)
Before an early screening of his 2012 Sundance Film Festival entry, LUV, at ShowPlace ICON Theatre in the South Loop, the MC-turned-actor pleads: "The killing is not necessary. It's not good; it's the opposite of what we truly are by nature. And we children of God and good people, so it's like there's no need to be violent with another human being. Like, I know things is rough and things get tough out there, but really, being able to take a hold of your emotions and not be letting that out on somebody else is important because you want a future. Like, you want a future. So, I'm just saying, figure out a dream or something that you have that you want to do and know that you can accomplish it. You have people from all over this city that have made it. You want to have a great life. So, I say the violence is the opposite of having a great life."
The character Common portrays in LUV could benefit from that advice. Fresh out of the slammer, Uncle Vincent gets sucked back in with his old gun-toting, drug-dealing cronies (played deliciously by Danny Glover and Dennis Haysbert) and unwillingly exposes his 11-year-old nephew, Woody (in a tour de force from Michael Rainey Jr.), to Baltimore's underbelly in a day of male bonding gone wrong.
"Vincent really loved Woody and wanted to show him love, but he just didn't know how to give it to him and was too selfish at a certain point to just be able to love and let go and not bring this kid into the situation," Common explains.
The gripping, if somewhat hopeless, drama finds Common in dueling leading man and producer roles. The first, he hopes, of many. "We will be able to do films that show a whole type of different human being and man . . . I want to show the spectrum of life when we do films. So, just know there's many films onboard for us to do . . . to show the creativity and the depth. And sometimes, some of them will be taking us out of the neighborhood, 'cause I'm also a person who feels like I don't always want to see what's going on in the neighborhood," he says. LUV hits theaters on Nov. 9.
VOICES ON SHUFFLE
An a cappella club hit? That's exactly what Dan Ponce's promising with the debut album from Gentleman's Rule. "There are some tracks that you can full-on dance to and like I said, we pushed the envelope in terms of production."
Ponce's well-versed in the rigors of fronting an a cappella supergroup. The WGN-TV reporter and Chicago journalism legacy founded Straight No Chaser, the all-male chart-topping, sell-out act stemming from a popular Indiana University extracurricular. He's also the mastermind behind the viral hit that put Gentleman's Rule on the map before the group even recorded Act Accordingly (due out on Nov. 13.)
"Pachanelly Canon," brilliantly mashed-up the time-honored wedding staple, "Pachelbel's Canon In D" with Nelly's titillating "Ride Wit Me." The matrimonial YouTube clip garnered over 300,000 views. When the video started to blow up, that was a really cool experience for all the guys in the group," recalls TJ Breen, one of Gentleman's Rule's 10 voices. "I had a lot of friends and family . . . and a bunch of people I'd never met all writing and tweeting about it. It was kind of a validation that maybe me going to school and deciding to pursue music instead of going to business, which was my true intention, maybe it is going to work and it kind of validated me taking this leap of faith."
With Ponce's focus strictly behind-the-scenes with producing, arranging, and even writing some original material, the male members of Gentleman's Rule are free to perfect their live juxtapositions of hits by everyone from Bob Marley to One Republic.
"I think inevitably because of my connection to both groups, Gentleman's Rule will be compared to Straight No Chaser and the bottom line is that this is a completely different group of voices. So, that alone will make Gentleman's Rule a completely different group," Ponce says. "There is definitely room at the table for another star a cappella group. It's going to take a couple of years to build a following, but I think we have a strategy and plan in place to make it happen."
Gentleman's Rule gets a proper unveiling during a two-week headlining stint at Riverfront Theater from Nov. 13 to 25. Go to riverfronttheater.com for tickets.
— Janine Schaults
TEA FOR TWO
As frontman for The Smashing Pumpkins, Billy Corgan is no stranger to reinvention. So, it shouldn't be that much of a surprise that the alt-rock icon and Chicagoland native has opened up a tea shop on the North Shore. For him, it's just another foray into unexpected territory. On the morning of Sept. 13, Madame Zuzu's Tea House opened its doors for the first time. The Highland Park tea shop offered complimentary tea and pastries to attendees, with the event quickly becoming standing room only as tables filled up. The morning crowd featured a mix of press, suburban families, and twentysomething Pumpkins fans, immediately identifiable by ZERO shirts and hoodies.
With free tea a perk, the real attraction for many curious visitors revolved around a series of intimate, stripped-down sets from Corgan throughout the day. The first set kicked off early afternoon with the artist performing solo, save for a rendition of "Today" alongside an old childhood friend. Aside from the rock radio staple, the rest of the acoustic set zigzagged across various eras of the Pumpkins' catalogue Selections included the relatively recent Teargarden By Kaleidyscope offering "Song For A Son," which Corgan revealed he wrote in the suburb, and "With Every Light," off 2000's Machina/The Machines Of God. The highlight of the first set, however, came with the surprise appearance of "In The Arms Of Sleep," a deep cut ballad from the classic Mellon Collie And The Infinite Sadness epic.
As a destination, Madame Zuzu's isn't a Pumpkins fanboy clubhouse. Rather, it's more subtle than might be expected, and, most importantly, open and inviting to all.
– Jaime de'Medici