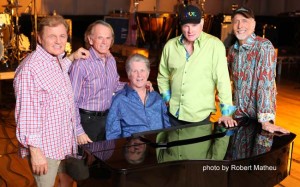 Many casual rock fans get stuck on this poser: name the band who were greatly influenced by both Bob Dylan and The Beatles, and in turn had major influence on Bob Dylan and The Beatles. The answer is The Byrds. Similarly, another '60s-born Southern California-based outfit led several lives, one that is extremely more commercially popular than the others, but those lesser-known years irrevocably changed the language of pop music.
Appearing: May 21st and 22nd at Chicago Theatre (175 N. State) in Chicago.
They are The Beach Boys.
To this day, an astounding number of Americans are unfamiliar with Pet Sounds, a recording reverently hailed by critics as one of the most important of all time. If you troll its comments section in Apple's iTunes music store, you'd frequently read those of Beatles fans who write something akin to, "I bought this because I read that Paul McCartney wrote most of Sgt. Pepper's in admiration of it."
Consequently, an army of self-styled "serious" listeners ignore The Beach Boys' early hits — as they do The Beatles' — believing Pet Sounds and its besieged, ultimately released (in 2004) successor Smile are the band's true legacy. Because Brian Wilson was central to those albums, those cognoscenti then err by clipping their Beach Boys' collections when Wilson's drug use and mental instability drove him into seclusion, and they are comically unaware of albums like Sunflower, when the rest of the band blossomed.
"I would say the reason we're here is because the early stuff is taken so incredibly seriously," says Bruce Johnston. "I'd say it's the reverse. I think people get a little itchy and antsy when [on tour, Mike Love and I] try to go deep. The problem music, I think, is the deeper stuff. The whole world knows the early stuff.
"But let's not go there," he pauses. "Here's how it should sound: Hearing it all is the better choice."
And so you shall have it. For their 50th anniversary — allegedly the first American rock group to reach the milestone — Johnston, Love, Brian Wilson, and Al Jardine are touring one last time, so people can hear the full spectacle from "Surfin'" to a new album, That's Why God Made The Radio, due June 5th.
The official launch was at the Grammys this winter, and Wilson says, "Just recently we decided to do the tour. We're doing most of the Beach Boys' classics. There are some that aren't as classic," he kids, "but they're good tunes."
"This configuration," Johnston starts, "people have a great interest in the depth that [Brian] created, and you get it at his concert. He's kind of like Burt Bacharach: he's this all-purpose guy from the music business who did everything. Here's this amazing talent on stage who wrote, produced, and arranged it, and did all the stuff. And he can get away with some really interesting tracks. When Mike and I go out — other than when we play with symphonies — we keep it a little lighter."
But surely Love and Johnston don't need Wilson along to dabble in Pet Sounds, and he admits that the pair cover more than half of the album when hitting the likes of Ravinia each summer.
"He doesn't tour a lot," Johnston agrees, "but he's able to do things that we wouldn't be able to do — like a longer version of 'Heroes & Villains.' And the reaction he gets . . . I'm not saying his audience doesn't have fun, but Brian gets a more serious audience. 'Here Today' is really fun to do, but I have to force Mike. I don't know why he doesn't like doing it. 'I don't like the instrumental part in the middle!' 'That's my favorite part!'"
In half of a century, The Beach Boys have certainly been entitled to a few squabbles, and those mostly limit themselves to lawsuits over royalties or use of the band name. Musically, fractures appeared in the agonizing sessions for Smile, when Wilson became increasingly withdrawn, Love especially didn't like its fragmented nature or Van Dyke Parks' cryptic lyrics, and Capitol Records wanted to know where its money went.
"I always thought Smile should have been Brian's solo album with us visiting vocally," Johnston says, "and I don't think he would have gone through any of the pain making that album. The label wouldn't be wondering, 'Where are the hits, Brian? Where are the hits?' The label was really funky in those days." Though he's not a founding member — he joined the touring band after Glen Campbell split in 1965; he wasn't considered a full-timer until a couple of years later — Johnston occupies what seems like an arbiter's position in the band. He was one of Pet Sounds' biggest champions, yet tours in full-voice behind the early hits. And those topsy-turvy years beginning 1967's Smiley Smile?
"It's a great career, great music, and later on band members," he says. "Have you ever heard Dennis [Wilson]'s song, 'Forever'? My favorite Beach Boys album in the whole world is Sunflower. It's one of the least-successful albums in the catalog," he snickers, "and Dennis wrote this perfect song. The Wilson brothers had great writing talent."
Reliably, he's partial to the new album, as well.
"It's very relaxed to me," Johnston hints. "What I like about it is the label wasn't running in the door every five minutes [looking for hits]. They just come over once in awhile and heard all the voices. Brian's got this cute little pocket suite in it. And nobody's worried about 'Strings aren't cool = it's 2012.' Paul Martin did these great string arrangements. It's relaxed and there's interesting things going on. Nobody's trying to put on whatever they were all about from the mid '60s. Nobody's trying to win an Olympic gold medal. Al sang a duet with me, and it was a pleasure. It's not like an album where you're gonna go, 'This is gonna be pretty big!' You're gonna go, 'Hey, this is pretty nice. These guys, after all these years, can and want to sing together.'"
Brian Wilson, who guards his words in a separate interview, opens up here. "It's very mellow-sounding. A lot of harmonies. Most of it's just harmony. I wrote a song called 'Shelter,' which is all about how your house is shelter from the sunlight and shelter from the dark night. It's a great tune, it really is."
That's Why God Made The Radio's title track has been issued as the first single, and its unabashedly retro feel is charismatic. The band's rich harmonies cascade over a bass pattern that's surprisingly high in the mix, with everything swaying in 12/8 time. Despite the arrangement's density, it never feels cluttered and — like most Beach Boys single edits — ends too soon.
He continues, "Most of the stuff I wrote in 1998 with my collaborator Joe Thomas. [Until now], the guys had never heard it before. They love it. They think it's great stuff. The guys haven't changed very much in 50 years, you know? They still sound just as good or even better than 50 years ago!"
If the material was written in 1998, that means it came to life while Wilson was living in St. Charles, not far from the Thomas whose résumé includes work with McCartney and Elton John. The pair were working on Wilson's solo album, Imagination, and guests at the house included the former Beatle, John Lennon's son Sean, and Joe Walsh. After an alleged falling-out, Wilson moved back to California. This part, he's not so willing to talk about.
"Not really. It was hard work, you know?"
Johnston, coincidentally, also has ties to the area, having been born in Peoria and kept a home in Beverly. His father, a big-wig at Walgreens, adopted him shortly before joining forces with Justin Dart, a former son-in-law of the Walgreens empire who revolutionized the drugstore business and became a magnate. The Johnstons moved to Bel-Air, young Bruce cottoned to surfing, and then fell in with some incredibly important artists.
"I've been at this since high school," he says. "I used to back up Ritchie Valens and Eddie Cochran; I was in a band with Phil Spector and on and on and on. But I was at this surf spot called Swami's in San Diego, and I don't know, I must have been 18 or 19, and I heard 'Surfin" On the radio by The Beach Boys, and I didn't know what it was. We had gone through instrumental stuff by The Ventures and Dick Dale, and all of the sudden vocals are singing about the surfing life. It astounded me that my sport had a voice. One thing led to another, and I'm in this band."
— Steve Forstneger
For the full story, visit the issue through our partners at ShadeTree, or grab a copy available free throughout Chicagoland.