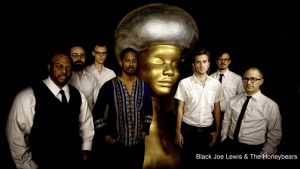 For a second our stomach dropped: are Black Joe Lewis & The Honeybears and Those Darlins in town the same night at separate clubs?
No, silly. That would be cruel — not to mention stupid. It's not that each outfit shares the same musical territory or even hail from the same scene, let alone town. Lewis stars for Universal boutique label Lost Highway, while the Darlins appropriately have a label no one's heard of (Oh Wow Dang). Apples and oranges?
Only if your bag of fruit is rotten and moldy. Lewis' appearance seems presentable enough, but there's something very George Thorogood about his new album, Scandalous. The way Thorogood white-trashed every standard he could abuse ("Who Do You Love," "Move It On Over"), Lewis grabs standardized, white bar-rock by the crotch and wags his tongue at its woman. He writes all his own music, however, so his lust isn't confined to just hypersexualizing another's work. It's difficult to sweat and show finesse at the same time, and there are times when Scandalous tries to get by on artifice. Luckily his band are there to back him up, even when that means dropping out.
Likewise, on the surface Those Darlins don't look like much. Three women who've taken the same last name (like the Ramones or, gulp, The Donnas) take on lo-fi indie rock that can recall The Raveonettes, The Ronettes, or Dixie Chicks had the meth dude showed up when opportunity was supposed to knock. But when they and their drummer (a dude) get things really moving it's a miracle that it doesn't fall apart. Released this week, Screws Get Loose tends to ignore the cowpunk elements of the debut and just flat-out garage rocks. "Be Your Bro" calls out the elephant in the room of male fans only out to see some hot chicks play guitar, but the most important thing about Screws is that everyone in the band gets to sing, which will let everyone rip a little more live. (Saturday@Double Door with DJRC.)
Dirt's not your thing? You would struggle to find anything more pure and less subversive than Kina Grannis. Best known as the singer/songwriter who won Doritos' "Crash The Super Bowl" contest, the artwork tells you all you need to know. Though a USC grad, Grannis' distant gaze while she sits on a tree swing makes Stairwells sound younger than perhaps she intended. Re-released this year with extra songs than those that made her a YouTube phenomenon, she hasn't done much to distinguish herself from Michelle Branch or Kate Voegele, but you don't rack up as many fans as her (who help crack the Top 40) through rapid, blind change. (Saturday@Lincoln Hall with Imaginary Friend.)
— Steve Forstneger
Category: Featured, Stage Buzz, Weekly