The Taming Of The Stew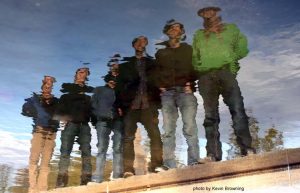 This year won't be the first time Umphrey's McGee end a year playing sold-out shows in Chicago. In fact, it will be the fifth consecutive. The venues differ (Vic, Riviera, Auditorium, Aragon) yet each time that Jam Productions announces the on-sale, it's a surprise. Like, "These guys are headlining the Riv? Three nights? Really?"
Appearing: December 29th through 31st at Riviera Theatre in Chicago.
Pay heed: they're only tangentially local (South Bend) and receive minimal airplay; an assortment of independent record labels have released their five studio albums, which bear sophomoric titles like Greatest Hits Vol. III, Songs For Older Women, and Local Band Does OK; and they're a jam band for chrissakes.
Or are they?
Even a cursory listen to last year's Mantis (Sci-Fidelity) insists that if you're going to lump Umphrey's McGee in that bracket, then you need to pull in Rush and Dream Theater as well. Looping, highly technical guitar runs disappear into crushing, Queen-sized choruses and MIT-formulated rhythmic structures – and this represents the band concentrating on reining themselves in. Define them at your own peril.
"It's funny, because it's not something we pay attention to," says keyboardist Joel Cummins says about external and internal preconceptions. "The way we envisioned things? We just try to be focused on what we're doing now. It's amazing and we're very proud of what we've done and where we're at, but there's always an immediate focus on what we're doing. That's a great element of this band is that everyone's incredibly creative and wants to try different things and push each other."
Lately, that has come to include extra-musical, technical adventures requiring fan participation (of which there is no shortage). Artists from AA Bondy to ZZ Top involve their supporters by letting them vote on setlists or lobby to bring the bands to town, but Umphrey's McGee might be the first to let an audience influence a show as it happens. The "Stew Art Series," affectionately known as S2, allows fans to text descriptive words to the "Mozes" interface, which soundman Kevin Browning filters before projecting on screens for the band. After several moments of determining where they want to go with the phrases, the musical mood shifts. To avoid distracting uninterested ticketbuyers, S2 concerts take place in the afternoon before a night concert and also reserve time for discussion and meet-and-greet.
"We've done about 15 now," Cummins guesses, "and it's really fun to engage our fans like that and give them something we really enjoy. People have gotten more and more creative as we've gone." When asked if it's practice-able, he laughs. "It is practice. It's getting in the moment and going with the flow. It totally – you can't practice. The practice just happens over the years of playing together, which is probably the closest thing we'll have."
Like everything else in their universe, don't expect them not to tinker with it. "I know there's a lot of different elements of it that are going to," he stops himself before admitting, "I think it's going to change in the future."
S2 symbolizes their tangential jamminess. Despite intensely choreographed studio recordings, Umphrey's McGee believe a song can never be finished. Playing something the same way twice is an anathema while fan interaction is paramount. Before they were anybody they encouraged listeners to record concerts and circulate tapes, going as far as to comp tickets to people who provided evidence of uploaded bootlegs. As many "official" live recordings exist as proper studio collections in their catalog. What distinguishes Mantis is its status as the first Umphrey's album whose songs weren't workshopped first on tour.
"That was kind of one of the funny things," Cummins shares. "We put it out and it was all new material. For the first couple months, people were slowly learning it. Now there's a lot more people singing."
Fair's fair, as the band also needed time to jump on a wave it was usually in the middle of.
"It took us awhile to get them down from studio versions to solid live performances," he says. "There's more stuff than six people can do onstage happening in a lot of those parts. Now we're more confident with them. We worked on these songs for a long time, probably a three-year process from when we started writing stuff to when it was actually finished. There's certainly an aspect of less-is-more, and a lot of us are into the idea of vinyl. Back in the day, because of the length of the cassette tape albums could only be 22- or 23-minutes-per-side. It was an easier amount to digest, and that was a factor: trying to make something you can sit through. That said, there's a lot of high-density [parts] in Mantis, a lot of layers and textures. I know that was definitely something even a year-and-a-half down the road that we're all extremely proud of. It's so fun to play those songs now."
After all that work, they were willing to pull Mantis apart again?
"Oh, absolutely. Hopefully it's something that happens pretty naturally," Cummins says. "Things evolve and change, and after the fact we find a different way we like to play it. They're as malleable as we want them to be. I think there are a few that have stayed close to the original way that we have them, but you never know – those could change, too."
De- and reconstructing the new album's 10-minute "Cemetery Walk II" has been a particular pleasure for the keyboardist. "It's been a good basis for some improvisation, and we've altered the form where it starts and then can break off into something else, and we'll later have a reprise of that idea. That one, in particular, has its own life now live and is different every time."
— Steve Forstneger
For the full story, grab the December edition of Illinois Entertainer, available free throughout Chicagoland.