Satisfaction Guaranteed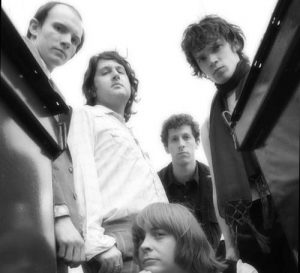 Aftermath, a dramatic play with live music that runs through January 23rd at Signal Ensemble Theatre on the North Side, takes audience members back to a critical point in the career of The Rolling Stones. Written and directed by ensemble member Ronan Marra, it opens with cast members performing "Paint It Black." Mick Jagger, convincingly played by Nick Vidal, worries that Brian Jones' idea of adding sitar to the song might hurt the band's rhythm & blues image. Initially, Jagger doesn't gain much support from his bandmates on the issue, but as the play proceeds over the course of four years, it's Jones who becomes the odd man out, due to his continued obsession with using exotic instrumentation as well as his descent into drug and alcohol abuse.
In addition to portrayals of Jagger, Jones, Keith Richards, Bill Wyman, and Charlie Watts, Aftermath, which takes its name from the landmark 1966 Stones album, gives us George Harrison and actress/model Anita Pallenberg. It's obvious from the first few notes of "Paint It Black" that Vidal doesn't sing like Jagger (his vocals are deeper and less bratty) but he does nail the singer's stage mannerisms. As Jones, Aaron Snook combines an aristocratic flair with a childlike playfulness, but is equally believable when he seethes with jealousy or explodes with anger. Plus, he plays a mean sitar.
Joseph Sterns creates an easy-going Richards with just a hint of the mumbling that comic actors like Mike Myers have used in their caricatures of him. Dylan Stuckey and Bries Vannon as Wyman and Watts respectively, don't have a lot of dialogue, but figure prominently in the play's occasional comedic moments. Wyman is more eager to participate in interviews with the media, but is consistently interrupted by Jagger.
Basically though, Aftermath focuses on Jones as a supremely gifted musician who eventually self-destructs. Originally the leader of the band, he resents how "Jagger slash Richards" have usurped his power through their emergence as the band's chief songwriters. Even his attempt to find solace with Pallenberg is overpowered by paranoia and it's jarring to witness his emotional and physical abuse toward her. In some ways, Simone Roos makes Pallenberg a mirror image of Jones; a playful blond with destructive impulses. She readily ditches Jones for Richards, causing even more friction in the band.
Which is not to say that Aftermath is just a British Invasion soap opera. The live music is consistently good, particularly the scene where Harrison (perfectly played by Andrew Yearick) teaches Jones how to play sitar while singing "Norwegian Wood." An acoustic performance of "Lady Jane" not only has a simple beauty, it underscores Jones' contention that he should play dulcimer on it. Other musical highlights include "Jumping Jack Flash," "(I Can't Get No) Satisfaction," and a rousing rendition of "Sympathy For The Devil" that finds Jones hopelessly lost in his own delusions. Ensemble members Vincent Lonergan and Philip Winston are funny in a series of small parts, especially as the clueless hosts of an American variety show. All in all, not a bad way to spend a night together.
Visit www.signalensemble.com for ticket information.
— Terrence Flamm
Category: Featured, Live Reviews, Weekly