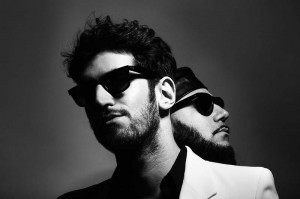 Win a chance for you and a guest to see Chromeo on the 30th at Congress Theatre!
"Don't Turn the Lights On," "I'm Not Contagious," and "Hot Mess" are the type of classic '80s R&B-style sythpop songs Chromeo has become famous for. Fighting the urge to dance upon beat one of Business Casual (Big Beat/Vice/Atlantic) is next to impossible given how infectious it is. That said starting at "J'ai Claqué La Porte" something goes horribly wrong. First of all, the genre switch to French pop is jarring at best and a crime against all things good at worst. From there, they are reduced to '80s-style sitcom themes, the most obvious example being the "Bosom Buddies"-feel to "The Right Type." However, the sheer sonic pleasure of the tracks that come before more than make up for the follies (as severe as they may be) of the final three.
Want in? All you have to do is be the first to correctly guess which local festival (year and name) IE first saw Chromeo. Deadline is Monday the 25th. Send an e-mail to ed [at] illinoisentertainer.com.
— Dean Ramos
Category: Contests & Giveaways, Featured, Weekly