Schubas, Chicago
Thursday, October 14, 2010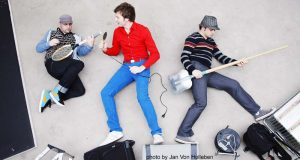 Bell X1's lanky frontman lost his dance moves — and with good reason. During a sold-out, whirlwind stop at Schubas, Paul Noonan plopped himself on a stool beside bassist Dominic Phillips and multi-instrumentalist Dave Geraghty and poured over the band's catalog, stripped-down and acoustic.
Instead of invoking David Byrne's skittish movements, Noonan kept his body still and let his soaring voice do the talking. Taking away the corncob-shaped shakers, the gurgling blips courtesy of departed member Brian Crosby, and the ever-accessible timbales placed the spotlight directly on the group's earnest lyrics.
Known for transforming Justin Timberlake's bumping-and-grinding into unlikely, if not sultry, love letters when stowing away the electric guitar, the decision to tour "unplugged" elicited feelings comparable to finding your name tagged on the largest, shiniest package under the tree on Christmas morning. The reality of the decision found the Irishmen playing it safe on the arrangements (save for a brooding "Flame" that stripped the song's amorous veneer and highlighted its stalker tendencies) and dusting off only one track from their 2000 debut, Neither Am I.
The welcome inclusion of "Pinball Machine" made longtime fans clamor for something along the lines of "Beautiful Madness," but instead of focusing on the past, the band previewed a number of tunes from a forthcoming album, tentatively scheduled for March release. "Velcro," a sentimental ode to Americana complete with a Dairy Queen reference, dictates a continued bright future for the band. Any fan worth their salt would admit to a conflicting desire to both look ahead and revel in past glories, and it often seemed Noonan and co. begrudgingly obliged the latter in their 90-minute set.
"Eve, The Apple Of My Eye" and "I'll See Your Heart And I'll Raise You Mine" never fail to disappoint thanks to their near-classic structure. Noonan could perform on autopilot and those two would make it out alive. Fare from 2009's Blue Lights On The Runway reached energetic heights, most notably "The Great Defector" and "The Ribs Of A Broken Umbrella" while 2005's Flock got the shaft with snoozing renditions of "Rocky Took A Lover" and "Bad Skin Day."
— Janine Schaults
Category: Featured, Live Reviews, Weekly