Splendor In The Grass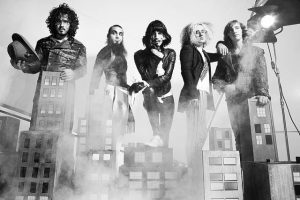 very artist has their own particular relaxation rituals, their own unique way of winding down after a grueling tour. But for Eric Nally — enjoying a few days off in his native Cincinnati before his coliseum-rocking combo Foxy Shazam headed back on the road again — there was only one way to counter his adrenaline-pumped state: hard, elbow-greasing labor. "I've been cutting the grass!" he proudly announces one late-spring afternoon, after switching off the mower. "The weather today is just awesome, and cutting the grass is one of my favorite things to do. And I have a big yard, too, so it gets kind of overwhelming sometimes. But it's calming for me, and it gives me a chance to catch up on some good music with my iPod."
Appearing: July 14th and 15th at Vic Theatre in Chicago.
For anyone who's seen the D'Artagnan-goateed Nally mince Superfly-smooth (with four cheerleaders!) through Jeremy Jackson's clip for "Oh Lord" — the operatic lead single from Foxy Shazam's eponymous new album on Sire — this simple, everyday task might be hard to picture him performing. But he's happy to fill in the colorful details. "The one thing that makes me upset about cutting grass is that whatever shoes you wear, they end up being green after you finish," he notes. "And I can't stand that, so I have this really crappy pair of shoes — I don't even know what they are, they're just some stupid sneakers that I don't like anymore because they got ruined.
"And for clothes, I just usually wear my gym outfit, because I go to the gym a lot and I'm already sweaty. So when I get home, I just keep the outfit on and mow the grass. And I like Nike a lot, 'cause that's what Michael Jordan wears, so I wear Nike. But I love Michael Jordan. I just think he's so magical — there's never really been anybody like him."
The same could be said of Nally, whose shy, childlike innocence offstage stands in sharp contrast to the outrageous, extroverted personality that emerges once he's caught in the spotlight. Outside of Andrew W.K. and possibly Mika, there are few other rock stars quite like him. Only 24, but already married with two children, the singer prefers simple Midwestern pleasures — like Skyline Chili and pizzas from his favorite local Italian joint, Padrino's — to any Hollywood showbiz hullaballoo. Yes, he's thrilled that a Foxy Shazam track — the Gary Glitter-ish stomper "Unstoppable" — was actually played during this year's Super Bowl. But he's more excited being recently spotted by Foxy fans at Padrino's, whose walls are now adorned with his posters. "It's really cool — I feel like a hometown hero!" he purrs, contentedly. "And in the last couple of months, it's been cool to even go into a local grocery store and get recognized."  
And the Foxy Shazam record — actually the group's third — is a study in similar contrasts. In a nutshell, it's everything you ever loved about great rock 'n' roll, condensed into 11 power-packed anthems (13 if you score the deluxe edition) that run the gamut from Sweet-sugary glam to Queen-quirky bombast and (courtesy of Bolshevik-bewhiskered keyboardist Sky White) the piano-pounding pomp of '70s-vintage Elton John — held together with a smart sprinkling of Nally's blue-eyed soul, as on the wah-oohed fingerpopper "Connect." It's easily one of the most coolly confident efforts of the year, and memorable from start to finish in a way that only true desert-island classics can be. The more you play it, the more timeless it sounds.
— Tom Lanham
For the full feature, grab the July issue of Illinois Entertainer, available free throughout Chicagoland.