Weekend preview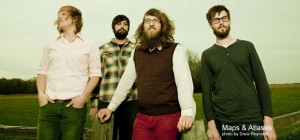 The masses have to choose from the Pride Parade, Eric Clapton Crossroads Fest, Jimmy Buffett, Green Fest, Taste Of Chicago, and Fountain Square Arts, but we drag you indoors.
Topping the list is the Yard Dogs Road Show, an audio/visual mindmeld that veers from vaudeville to rock 'n' roll, rarely stopping in the same place twice. A conceptual, 13-member ensemble constantly teeters on the brink between brilliance and utter farce, completely defying the roots-rock name they've chosen for themselves. Bustiers, boxing gloves, and beats make up this '20s-gone-mad revue that's only missing two things to go global: Tim Burton and Johnny Depp. (@Abbey Pub on June 26th with Black Bear Combo.)
Also at Abbey on the 28th is a book signing by Chicago-based author Alan Goldsher, whose Paul Is Undead: The British Zombie Invasion finds release this month. It's not the same thing as the DVD movie Paul Is Dead, but that's the Beatles' fan's plight: sorting through the chaff. Goldsher's book is pure fiction, a dive into sci-fi with the Fabs, and his appearance will be complemented by a performance from the Zombeatles. Goldsher will be signing at Quimby's in Bucktown the next night.
Saturday night is also the release party (finally!) for Maps & Atlases' Barsuk Records debut, Perch Patchwork. The Chicago band ended up on the Northwest-based indie (Death Cab For Cutie, Nada Surf) and deliver a vibrant blend of Menomena whirl, clipped South African pluck, and the temperant vocals of Dave Davison. The arrangements are decidedly more crowded than their previous EPs, but then again anything would be. (@Subterranean with Fang Island.)
– Steve Forstneger
Category: Featured, Stage Buzz, Weekly