Lincoln Hall, Chicago
Wednesday, November 25, 2009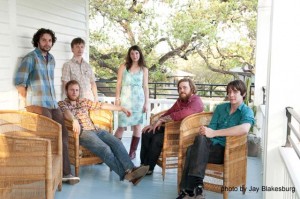 There is protocol for missing the boat on a band, not just among the music press but people in general. The first is to fake ignorance and act like you've been there from the beginning and using the flimsiest evidence — like a calendar listing — as proof.
Our favorite is a different kind of revisionism, where you dismiss an artist's earlier work altogether and act like you've been anticipating their breakthrough based on a nonexistent bootleg that validates your interest. Another is to fill a frank admission with self-deprecating twaddle. Whatever the tactic, the point is we should have mentioned Blind Pilot earlier. It might be backhanded praise, but Blind Pilot's trump is the familiarity of their sound. Largely acoustic, Three Rounds And A Sound (Expunged) nestles into the confines of other Pac-Northwest bands like The Shins, Death Cab For Cutie, and Blitzen Trapper. More than just simpatico, college pap, however, the growing ranks of their live band brings a vivaciousness that brings their picturesque love songs to life.
Laura Veirs opens.
— Steve Forstneger
Click here to watch a stream of Blind Pilot on "Morning Becomes Eclectic."
Category: Stage Buzz, Weekly