Schubas, Chicago
Wednesday, October 21, 2009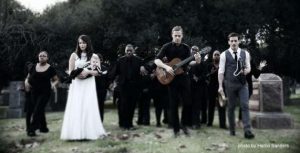 Chalk it up to the season, proximity to an Academy Award-nominated heartthrob, or a gaggle of irrepressible, singing children dressed up in facepaint as ghouls, but Dead Man's Bones (already carefully treading the line between shtick and valid art form) passes the test . . . at least during the latter half of a sold-out doubleheader at Schubas.
Ryan "The Notebook" Gosling and friend Zach Shields based the concept on a shared love of Disney's "The Haunted Mansion" ride, somehow convinced Anti to release an album of their kooky graveyard laments, and fleshed the whole thing out with the help of the L.A. Silverlake Conservatory Children's Choir. Think of it as a deranged Polyphonic Spree (complete with white, ghostly robes) or a middle-school drama club gone awry.
Despite the recipe for disaster and the celebrity-vanity-project label projected onto the band from day one, the sparsely composed songs should silence any naysayers. Steeped in '50s doo-wop and filled with images of love literally transcending death and other things that go bump in the night, the duo's self-titled album deftly balances the macabre with child-like wonderment.
Joined by Chicago flutist and vocalist Andye Jamieson and local Saint Andrew's School Children's Choir, Gosling and Shields traded a bevy of instruments (keyboards, drums, guitars) while lead vocal duties leaned more towards the well-known actor. With a surprisingly deep set of pipes befitting a crooner of Michael Buble's stature and ticket sales (minus the smugness), Gosling hosted a demented sock hop on "My Body's A Zombie For You," complete with a "Z-O-M-B-I-E, Zombie" cheer at the end and channeled "Monster Mash" on the plucky "In The Room Where You Sleep."
Performing against a twinkling, cemetery backdrop straight out of a late-night "Scooby-Doo" caper, Gosling and Shields preferred to turn the spotlight on the kids – a near genius move. It's pretty hard to not be taken in hook, line, and sinker by earnest squirts hamming it up for both Gosling's and the audience's approval. One significantly nervous girl upstaged the whole crew with a somewhat wobbly, but time-stopping version of Cher's (or Nancy Sinatra – depending on how recently you've viewed Kill Bill Volume 1) "Bang Bang (My Baby Shot Me Down)."
The producers of the Oscar telecast always try to spice the three-hour self-congratulatory event up with either dreadful choreographed dance routines or endless montages. Here's a thought: enlist one of Hollywood's own to serenade the over-dressed crowd. Just imagine the ratings bonanza when Gosling et al steps on stage with the New Orleans jazz funeral-influenced "Name In Stone" en tow. Wednesday night's version alone should receive a special award. And Dead Man's Bones should deserve a demerit for leaving it off the album.
— Janine Schaults
Category: Live Reviews, Weekly