Crowning Achievement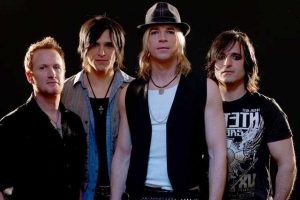 Each time an INXS song pops up on the radio, a split-second is devoted to re-imagining the tune with Marty Casey's voice in place of the late Michael Hutchence. For anyone who avidly followed Casey's television journey on the CBS reality show, "Rock Star: INXS," where the chart-topping Australian group searched for a new lead singer, the practice doesn't seem all that odd. Casey did stick it out in the competition to second place. The insufferable J.D. Fortune ended up taking the top prize, but did Casey's fans really feel slighted by the loss?
Despite the "Marty Parties" that sprung up around Chicago's South Side so friends, family, and peripheral supporters could gather and cheer the towheaded singer, one could sense that returning home with runner-up status was more coveted than going out on tour to fill a dead man's shoes. The exposure being on a weekly TV show for Casey and his longtime band, Lovehammers, alone was worth the trouble.
"Simply being on television for three months – 30 million people around the world see what you do. That's a really amazing experience to get to kind of live through," Casey says. "I could play for 1,000 people a night every single night for the next 25 years . . . to get in front of that many faces."
Not that the rest of the Lovehammers (bassist Dino Kourelis, drummer Bobby Kourelis, and guitarist Billy Sawilchik) were thrilled when Casey announced his Los Angeles-bound plans.
"Initially, when I said, 'Hey guys, I'm gonna be on this show,' they were really against it. But, I really never felt better doing something that everybody else felt was so wrong. I just knew this was an opportunity and I just took advantage of it even though a lot of people didn't really stand behind me to do it," Casey recalls. "But, I just knowingly understood that it would be a good thing, not only for me, but for the Lovehammers."
Casey's next venture – serving as the lead singer for '80s glam-metal band L.A. Guns on a world-wide tour – flummoxed his bandmates and Hammerheads (the endearing term given to fans of the band) alike. After 20 years together, what did this mean for the band? Was this a break or an indefinite hiatus? L.A. Guns – really?
"I wrote a record for them. I was hired to do that and [at] the end of writing it their singer quit and they're like, 'Why don't you sing?' It's not something I really set out to do, it's just an opportunity that crossed my path and [I] knew contractually exactly how long it would last," Casey explains. "I said, 'I really want to go around the world playing music. I want to do that. I want to go to different continents,' and the vehicle to do that at that point in time was L.A. Guns."
"The band's never really excited about me taking any adventure outside of [Lovehammers] and I completely understand that. A lot of times people aren't happy with decisions that take you outside of a comfort zone," Casey says.
Fans can breathe easy now that Casey's cross-continental jaunt is over and he's back with the band and a new album – although in his mind the fears were never warranted. "I never felt like I left in the first place and I always knew that there was a record to come," Casey insists.
The trajectory of Lovehammers' fifth full-length album, Heavy Crown (REEP), took an unexpected turn. Originally promoted as a collection of b-sides and alternate versions of previously released material, Casey initiated the notion that the record should consist of new, original songs. Through the band's Web site, Kourelis already promised a rapidly approaching release date and set up a presale for the initial idea of an album consisting of rare fan collectables.
When the band agreed to scrap that plan in favor of fresh material, they were still boxed in by the predetermined deadline. Instead of leisurely writing songs and spacing out the recording process as had been the band's style on previous efforts, Heavy Crown forced the four childhood friends to get crackin'. The entire endeavor took four months from song conception to laying down the tracks.
"Every other record it changed from beginning to end because we wrote it over a year or two and you're a different player from 2007 to 2009. You've played hundreds of shows, you've learned, you've listened to new music – so the record [covers] a really long time spectrum and this one was just like exactly a point in time."
The band relished the new process. "I really like the total approach. As opposed to like going through a photo journal of the last year and kind of reminiscing over memories, this one is just one really bold snapshot of a period in time," Casey explains.
Bold can adequately describe Heavy Crown from the artillery attack of the album's opening track and first single, "Guns," to the piano-laden "Your Time, My Time." And a Lovehammers recording wouldn't be complete without the band's unique take on the traditional ballad. Slow dancing to "Driving Blind" and the title track might prove difficult, but the compositions' emotions run deeper than the average three-minute rock song usually allows.
After Casey's travels, he found it easy to step back in sync with the band. "We've been playing for so long and it was nice to step in where there's a focus, a goal. The only way I know how to be friends with the band and the only way they know to be friends with me at this point in our lives is through the band, so really it was just an opportunity for all of us to get to hang out for two months," Casey reveals. "It was probably the most exciting part of this band that I've seen in a long time – just us getting together, hanging out, writing songs – and it kind of reestablished what this band's all about and it's like we needed it."
Forget the old saying – you can go home again.
— Janine Schaults