Q&A With Nils Lofgren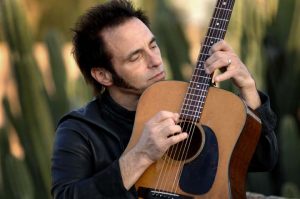 IE: What are you doing in your spare time?
Nils Lofgren: Just relax for awhile until I get back to my next action, probably a solo album for next year, get some more beginner lessons [online] for my guitar school. I just found out I like to teach and so many people think they're not able to play guitar or it's a frustrating adventure.
IE: You're competing with the anti-guitar instruction: "Rock Band" and "Guitar Hero."
NL: Fortunately, that's not playing real instruments. There's no bad place to learn from. If you're learning something useful, it's all good. The first Rock N Roll Fantasy Camp was back in the '90s and me and Clarence Clemmons participated. I realized when I was sitting in a room with 20 guitarists who wanted to learn, regardless of their level, I was really engaged and excited to share stuff I'd picked up along the way. People get overwhelmed by the learning because it's gymnastics for the hands. It's stuff you don't want to do.
IE: It's funny you call it "gymnastics" given your past. How come your tutorials don't include the pommel horse or iron cross?
NL: I never got strong enough to do the iron cross. I was a high-bar/parallel-bar guy. In fact, if you go to "Nils Lofgren Flip" on You Tube, there's a great little highlight reel put to an instrumental piece I did for the All Madden Team Band. There's some high bar in there, apparently in a nightclub. I started doing the trampoline flip with a guitar back in '69, and I've been doing it since. Well, I had to knock it off halfway through the Born In The U.S.A. tour. I'm thinking of trying to do it again, but I had two new hips put in 10 months ago. Though some of [the injuries] has much to do with playing basketball on city courts. My love is basketball. It turned both hips to dust.
IE: Do people think you're insane for wanting to do it again?
NL: Yeah, but I have ideas about it. Maybe I could do tramp to tramp. Like Cirque de Soleil. In '69, when I started doing that flip I thought "athletics and music." I thought by '71 everyone will be doing this. It's taken 40 years, but the Jonas Brothers have a tramp.
IE: It seems like David Lee Roth was on your side.
NL: He became an incredible kickboxer. If I put my legs up to the side of my head, I'd rip every muscle in my body.
Nils Lofgren is currently on tour with Bruce Springsteen & E Street Band and posting guitar lessons at Nilslofgren.com. His latest album, Nils Sings Neil, is out now. Q&A By Steve Forstneger.