Zoom
H4n Handy Recorder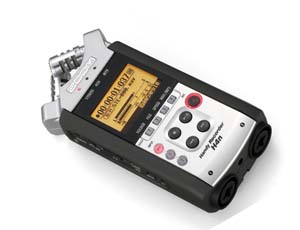 Regular "Gear" readers know we're big believers in taking our recorded songs to a professional studio instead of "futzing around" in basement hell. Getting those hit songs past the demo stage can be an easier process using some of today's ultra-portable handheld recorders. Zoom's updated H4n uses a Taser-like pair of built-in X/Y stereo condenser mics that offer variable recording patterns at either 90 or 120 degrees. Zoom improved the H4's digital preamp too, giving users improved audio quality as well as headroom and, for the first time, letting them plug in two external mics for four-channel recording. A new, larger LCD and a more user-friendly interface make the recording process faster, too, and the onboard reference speaker will take recording to the next level. The H4n records high-resolution audio at 24bit/96kHz on SD/SDHC (flash card) media of up to 32GB and connects at USB 2.0. For the layman musician, it uses multi-track recording capability along with Hi-Z inputs for recording guitar and bass. The new Zoom also offers variable-speed playback, onboard effects, and more than 50 guitar and bass-amp modeling settings. In power-saving mode the H4n can operate for 10 continuous hours on a single set of AA batteries. Included with purchase is a 1GB SD card, wind screen, mic clip adapter, AC adapter, USB cable, protective case, and Cubase LE recording software. An optional remote control is also available. Zoom's newest handheld recorder makes your path to a hit record a little simpler. Retail is $399; visit www.zoomfx.com for more information.
JBL Professional
LSR Monitors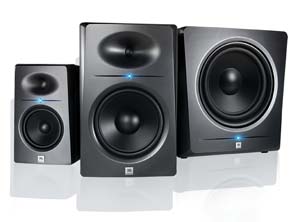 As the television media continue hammering away at our psyches about the dodgy economy, music manufacturers are quietly offering their best values ever on entry-level and pro-level studio equipment. Deflation? Voodoo economics II? End of the world because CNN says so? Nope. This is a great time to be making music. For home and project studios, JBL Professional introduced the new LSR2300 Series studio monitors, addressing their estimated demand for cost-effective pro-monitoring systems for a slew of computer-based production systems. JBL's Linear Spatial Reference criteria is said to deliver at least 1,200 times more data to the monitors than their equally priced competitors, delivering superior imaging and smoother frequency response. All models include balanced XLR, 1/4-inch, unbalanced RCA inputs. Price wasn't available as of press time, but visit www.jblpro.com for more details.
News & Notes
A couple of our favorite indie music stores in the western and southwest suburbs are hosting some great clinics in the next month, providing the opportunity to check out some new gear that was released at the 2009 NAMM show. A Sound Education in Brookfield is hosting a full day of clinics on Saturday, March 28th in honor of its 8th anniversary. It will be demonstrating Peavey's versatile new Vyper modeling amps as well showing potential studio boffins how to perfect their home recording set-up. A little further down I-55, West Side Music Center in Joliet is hosting a guitar clinic on April 2nd with local guitar legend Joe Jammer, who was a guitar tech for The Who and Jimi Hendrix, as well as a session player for Mick Jagger and Ringo Starr. He'll demo Randall, Krank, Hartke, Washburn, G&L, and ESP.
– David Gedge