SELLING OUT TO THE FAME GAME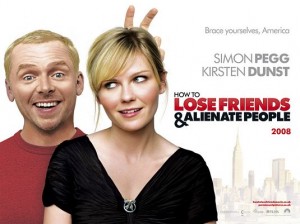 How To Lose Friends And Alienate People
20th Century Fox
In the early '90s, British writer Toby Young founded and co-edited the London- based magazine Modern Review, a publication dedicating itself to snarky articles slamming anything and everything that wasn't them. Young revealed himself to be most obnoxious, earning a toxic reputation and getting himself banned from just about every major event in the country.
After Modern Review folded, he landed at Vanity Fair, where he quickly flamed out, concerning himself with screenwriting.
How To Lose Friends And Alienate People, based on Young's memoirs of the same name, significantly tones down his courser traits, yet still remains a biting indictment on the publishing business as well as celebrity culture.
With the name changed to Sidney Young, Simon Pegg (Shaun Of The Dead, Hot Fuzz) brilliantly plays the writer as a man wanting to continue his slash-and-burn technique at Sharp's magazine (subbing for Vanity Fair). Finding out his style and personality don't enhance his chances of bedding a witless starlet – well played by Megan Fox – he ditches his method to become just another cog in the celebrity-making machine.
The rest of the cast is equally spot-on with Jeff Bridges as Sharp's editor, a writer once very much like Young who has evolved to become a well-respected publisher, and Gillian Anderson perfect as a shark-in-the-water PR expert. Even Kirsten Dunst goes beyond her usual one-note performances as Young's eventual love interest in this over- looked gem.
Special Features are minimal, with only a making-of segment, but the commentary with director Robert Weide and Pegg is well worth your time.
Films: ***1/2 Features: **1/2
Nick & Norah's Infinite Playlist
Sony Pictures
If you've never experienced a dusk-til-dawn night on the town, you're quite simply missing out and must do it at some point in your life. Not to say that it should be done on a nightly or weekly basis, but at some point you'll want to get around to it.
Nick & Norah's Infinite Playlist chronicles one such evening, as two young 20-somethings embark on a hunt to find a secret show by their favorite band. Along the way, things naturally go awry.
Nick, still reeling from the breakup with his girlfriend of six months, is saddled with Norah as they and their friends try to get Norah's insanely drunk friend Caroline home. Of course, Caroline gets misplaced, and the wackiness ensues.
Michael Cera as Nick gives the same befuddled teen performance he usually gives in films such as Juno and the TV series "Arrested Development." As an actor, Cera might be a one-trick pony, but it's a damn good trick and he seems to have cornered the market. Kat Dennings as Norah is winning, and there's never any doubt how the film will end. The real scene-stealer, however, is Ari Graynor as Caroline. Sure, drunk chicks are almost always fun to watch, but Graynor takes it to another level.
Surprisingly, aside from an unfortunate train-station bathroom scene, there's little of the gross-out raunch that's so prevalent in teen comedies. Nick & Norah owes more than a little debt to Martin Scorsese's After Hours – so much so that it plays like a direct Gen Y descendant of that 1985 classic.
The disc comes loaded with special features such as deleted scenes, outtakes, and commentaries from the cast.
Film: *** 1/2 Features: ***1/2
Also Available . . . Fountains Of Wayne, the New York pop hipsters responsible for "Stacy's Mom" and other quirky gems, gets the hi-def treatment on No Better Place – Live In Chicago. Like the majority of live DVDs, it's a fairly straight forward outing with few frills. However the band is in good form (albeit not the most exciting stage presence) and the sound and video quality is excellent. Also, there are five extra songs in the special-features section performed unplugged in the studio.
Having been around since 1996, Fountains Of Wayne have always been unfairly overlooked. Live In Chicago provides a good chance to rectify that situation.
— Timothy Hiatt