Earth
The Note, Chicago
Friday, April 25, 2008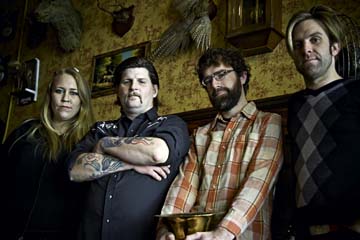 "Dude, I'm bored," announced a friend of a friend in a Venom-themed Boris T-shirt. "Are you guys going to leave soon?" It was a damned good question. After six songs of blandly introverted, lightly amplified twang, many at the quaint Wicker Park bar were starting to come to grips with what has become a rather dull and clinical instrumental jazz band. Chatter — a death knell to any live band — had arrived like a swarm of determined little midges, and there was nothing on tap that could take back the night. Yeah, we were going to leave soon.
Earth is no longer the Pacific Northwest's doomsday-noise counterpart to grunge. The band's output since emerging from a lengthy hiatus in 2002 has been steadily less harsh, emphasizing the feeling between notes — clarity, sustain, a galaxy of hospital white — instead of the distorted gigantism of yesteryear (well, yester-1991). If it weren't for the re-recording of old songs on last year's Hibernaculum, Earth would be nearly unrecognizable in its current state. Guitarist Dylan Carlson is the quartet's only original member. On Friday, with his eyes creepily glued to his guitar neck, he acted as if he were the only person in the building. "This next one is the first song on our new album," he tried to joke, doing his best Robin Zander. It bombed.
With the click of a footswitch, he could have lifted the band from its strict clean-tone tomb. The original "Ourboros Is Broken," with its massively overdriven sludge riff, would have clobbered the audience. (The guy in the crowd wearing gauntlets looked ready, though, and Nachtmystium frontman Blake Judd, who was also present, could probably handle anything at this point.) But unfortunately, it was a night where economical, trebly ax-wiggling took to the stage for a practice, despite the fact Earth just got back from a month-long European tour.
Much of the set drew from the light psychedelia of The Bees Made Honey In The Lion's Skull (Southern Lord), an album that is best in the background, away from the bar. "Engine Of Ruin" ("It's about speed," Carlson explained) remembered the hypnotic repetition of the band's early work, but without volume, pedal changes, or peaks, it crashed. Even Steve Moore — a Schroeder of an electric pianist — couldn't pick up the pieces, though he tried something happy. Drummer Adrienne Davies counted down "Hung From The Moon" with sticks held high above her head, as if she were lighting hard-to-reach candlesticks. Reverb arrived, cooking the tune a little hotter than the others. Yet amid the slumber of the rest of the set, her sticks hadn't lit much.
At a recent show in Portland, Oregon, Earth began its encore with "Raiford (The Felon Wind)." There, Davies used soft felt mallets during the zonked funeral march. That didn't happen Friday. There was no encore, and Earth didn't need to remind the Chicago crowd that it was time to say goodbye.
— Mike Meyer
Category: Live Reviews, Weekly