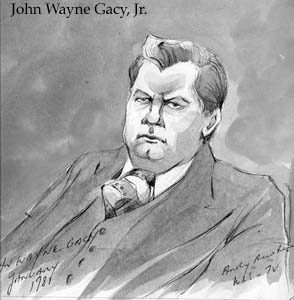 "There's been a lot of agitation on the part of the electronic media and regular press to open up the courtrooms," says courtroom artist Andy Austin, author of the new book Rule 53: Capturing Hippies, Spies, Politicians, And Murders In An American Courtroom (Lake Claremont, $19.95). Rule 53 is a Federal Rule Of Criminal Procedure, which prohibits cameras and recording devices in the courtroom, in turn ensuring artists like Austin have a job.
Her book is a riveting, behind-the-scenes look at 11 prosecutions spanning 38 years of Chicago crime history – including the trials of John Wayne Gacy Jr., the El Rukn street gang, and various mobsters and governors. It features more than 100 of Austin's courtroom sketches.
One of the most dramatic is a gagged Bobby Seale tied to a chair as part of the Chicago Seven conspiracy trial for the 1968 Democratic National Convention protests.
Austin got her start at that trial. The Vassar graduate studied art in Italy, and had been drawing at home and on the street before deciding to sketch in the federal court. "It just happened that I went to this incredible trial that was historic," she says.
She talked her way into a job drawing for ABC-TV when their courtroom artist had to leave to cover the Ted Kennedy/ Chappaquiddick trial. "When I started I wasn't very good and I had terrible days and I'd think, 'Oh my God, I can't imagine this going on the air' – particularly for a national story," she recalls. "Somebody who really cares about being a great artist wouldn't like this job."
Still with ABC, she has also covered trials involving celebrities such as Oprah Winfrey, Michael Jordan, Michael Jackson, and the Bee Gees.
"I loved the idea of journalism, and this was like being a reporter but without being responsible for all of that note-taking," she says.
Nonetheless, she has always taken notes in the margins of her sketches. "When I hear something good, I can't help but put it down. That's how it started – even back at the conspiracy trial. But around 1987 I thought I had to write a book. Then I wrote more and more. I'm sort of famous for having written so much stuff you can hardly find the sketches sometimes."
Sometimes, she was sent to "babysit" a trial without a reporter – and took notes in case something newsworthy happened. She also did a lot of eavesdropping through the years. "There were these old men who used to come and watch trials, the court buffs. It was like free theater for them. Because they were mostly deaf they'd talk in these really loud voices. I wrote down what they said and kind of used them as a Greek chorus in the book, commenting on the action. There are hardly any of them left – I think because people at that age are at home watching TV. But this generation of old gentlemen grew up before television."
Austin is all for keeping cameras out of the courtroom. "Many of us feel very strongly that the right to a fair trial would not allow this – partly because it would be like entertainment, and partly because the witnesses would be intimidated. If you're testifying against mobsters, you don't want them to see you there – or for someone to see you on TV. Their lives might be in danger.
"People also may feel that judges and lawyers may act differently and start playing to a larger crowd. They may have larger political ambitions, as many state's attorneys often do."
Not that everyone gets the picture. "There's a new problem, which just happened in court the other day," she says, referring to the corruption trial of political fundraiser and businessman Tony Rezko. "Somebody was taking pictures with their cell phone. Actually, it was a member of the press, who should have known better and was happily snapping away."
Courtroom artists often sell their sketches to the people in them; even Conrad Black bought some – though, she says, "It's unusual for a defendant to buy sketches. More often it's the lawyers and judges."
So far there are no plans for a follow-up. "I could write so many sequels, because practically every trial I've covered is interesting," says Austin, who went through reams of court transcripts to check facts for the book. "But I don't feel like doing it again right away . . . it was an enormous amount of work."
Austin will appear at 57th Street Books (1301 E. 57th) for a book signing Tuesday, May 27th at 6 p.m.
ODDS 'N' SODS: Also on the book beat, award-winning WBBM-Channel 2 organized crime reporter John "Bulldog" Drummond just released It Ain't Pretty But It's Real (Chicago Spectrum Press), a sequel to his 1998 memoir . . . And just in time for the 60th anniversary of the first Cubs game broadcast on superstation WGN-Channel 9 (April 16th, 1948) is a DVD and book, Cubs Forever: Memories From The Men Who Lived Them (Triumph Books) . . . The co-hosts of the new half-hour magazine show "24/7: Secrets Of The City" are club owner Billy Dec, "Bachelorette" finalist Jamie Blyth, and former "Your Nude Hippo Show" beat reporter Catie Keogh. It airs Saturdays at midnight, right after "Saturday Night Live" . . . The Department Of Justice has O.K.'d the merger of Sirius and XM Satellite Radio. First announced more than a year ago, the merger would put Howard Stern, Bob Edwards, Oprah Winfrey, and Opie And Anthony on the same "station" – once it's approved by the Federal Communications Commission.
– Cara Jepsen