Louis XIV, What Made Milwaukee Famous
Metro, Chicago
Saturday, March 22, 2008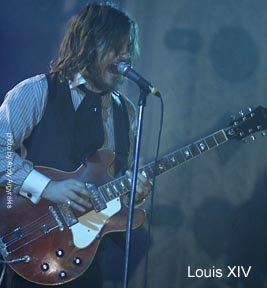 When Louis XIV picked up steam in 2004, it was on the road alongside The Killers and Von Bondies, and quickly led to a deal with Atlantic Records. Even though the industry was riding the resurrected garage and dance rock crazes to excessive extents, the San Diego quartet were a distortion-slapped breath of fresh air, not really catering to either craze, rather revisiting the grimy swagger of AC/DC and The Rolling Stones, plus a hearty blast of T. Rex (in all its glammy extravagance) on the full-length debut, The Best Little Secrets Are Kept.
Though the disc generated an unquenchable amount of industry buzz (topped off by several South By Southwest appearances), the groundswell significantly tapered, so much so that 2008's Slick Dogs And Ponies seemed to come out of the blue. While the record was ramped up with a tour supporting Editors and Hot Hot Heat, awareness substantially simmered by the time this spring's headlining outing settled in, evidenced by a sparsely populated Chicago show that found the band clinging to the painful aftermath of a figurative hangover.
On stage, songs from the first album still packed their ballsy riffs, handclap appeal, and sexually charged imagery, but new tracks were hampered by a darker, ominous, almost murky aura that found frontman Jason Hill and company in a somewhat lethargic state, a realistic side effect of non-stop touring and presumed partying (if their tongue-in-cheek lyrics of sordid affairs are even half-truths). While not lacking instrumental chemistry (or the epic appeal of a two-piece string section), Louis XIV's delivery throughout tripped out psychedelics of "Air Traffic Control" and screechy soulfulness of the '70s-porn-worthy "Tina" seemed more like a group trying to live up to the original hype, but lacking the sincerity that sold those sounds the first time around.
The same could be said about fellow cuts from the new class (especially the speedy but unnerving "Guilt By Association"), though the ball did swing back in members' favor towards the end when unveiling the older aggression of tambourine and sweat-drenched "God Killed The Queen," plus the current project's sole saving grace, "There's A Traitor In This Room." Though still not at full throttle, Hill was able to sew together a somewhat convincing cross pollination of Bon Scott and Mick Jagger, allowing the adrenaline rush to carry the equally incendiary finale "Pledge Of Allegiance," but by then it was too late to undo the damage incurred from so many forays into the band's sophomore flounder.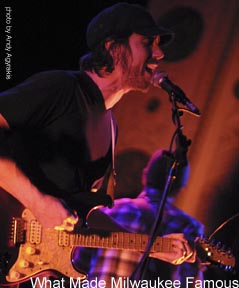 Thankfully openers What Made Milwaukee Famous steered clear of that dreaded second CD slump, thanks to a consistent leap between being the talk of Texas in 2005 to astutely evolved and inventive indie rockers. The Austin-bred five piece made the label leap to Barsuk the next year and just released What Doesn't Kill Us on the heels of tour dates supporting a "reunited" Smashing Pumpkins. Playing large venues with Billy Corgan and his hired hands surely sealed members' cohesion, and unlike the Lone Star State's similar-sounding Spoon, WMMF weren't lacking in stage presence.
For starters, the group didn't take themselves too seriously but still possessed the finely chiseled chops that made the satirical "Cheap Wine" and the swooning stalker song "Sweet Lady" instantly magnetic. Singer/guitarist Michael Kingcaid silenced the hipsters by boldly backing piano man Billy Joel before unfurling a lean but muscle-bound rendition of "You May Be Right," which complemented the strutting original "Sultan." In the end, that sophisticated mash-up of sweeping organics and scalding electrics was enough to command attention, even with a less-than-half-full room.
— Andy Argyrakis
Category: Live Reviews, Weekly