Jersey Boys
LaSalle Bank Theatre, Chicago
Sunday, October 14, 2007
The Frankie Valli love fest finally arrived in Chicago with an audience so eager to express their affection for the octave jumper they rose to their feet after "Walk Like A Man." Maybe it was a case of opening night fever or maybe the man himself holding court down in front spurred on the reaction, but a standing ovation in the middle of Act I for a couple of actors reeks of overeagerness.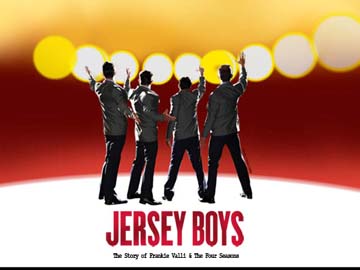 *Jersey Boys* traces the steps of Valli and his comrades (Bob Gaudio, Nick Massi, and Tommy DeVito) from the streets of their Garden State neighborhood to the spotlight of the Rock And Roll Hall Of Fame and everything else between – petty theft, jail stints, mafia ties, Valli's troubled first marriage, DeVito's gambling debts, and the group's subsequent disintegration. Set against the backdrop of the songs and told in turn by each Season in Ferris Bueller-inspired monologues, the group come to life as four fleshed-out individuals and not just Valli and the three blokes standing behind him.
But make no mistake, Jersey Boys belongs to the songs, written by phenom Gaudio and producer Bob Crewe. The script packs in quintessential outfit scenes knee-deep in *Sopranos * lore, drops the F-bomb, plays up sexual innuendo like an Adam Sandler flick, and pulls comedic punches, including a memorable zinger involving Ringo Starr, but it's all filler tiding us over for when the quartet breaks out another indelible hit.
Jarrod Spector easily tackles Valli's vocal calisthenics and goes one step further capturing Valli's heart and inexhaustible drive. More than just mimicking and reaching Valli's ridiculously high notes, Spector embodies Valli so much that where his voice begins and Valli's ends remains murky. Jeremy Kushnier, sounding similar to UB40's Ali Campbell, plays wise-guy Tommy DeVito with doomed likeability, Michael Ingersoll plays uptight Nick Massi, and Drew Gehling is guilelessly wide-eyed as Valli's closest ally and songwriter Bob Gaudio.
The four shine on classics "Big Girls Don't Cry," "Sherry," and "Dawn (Go Away)," while Spector puts his all into "Can't Take My Eyes Off Of You." The show's first half finds the boys singing staples from the oldies channel on the radio dial by way of "Earth Angel" and "Silhouettes," but nothing lights a fire underneath the audience or performers like the instantly hummable Four Seasons' catalog.
With a sparse set consisting of a chain-link fence and catwalk and a few strategically clever walk-on props, it really was up to the boys to emanate the show's warmth. Video screens superfluously projected pop art illustrations to coincide with the plot's key moments, making for some head-scratching moments, while the screens earned their use with recreations of the band's appearances on "The Ed Sullivan Show" and "American Bandstand" by interspersing real-life footage with the actors' simulated television performance.
Real Jersey boys Valli and Gaudio took a celebrated bow with the cast Sunday night engulfing their doppelgangers in bear hugs. Valli has been working his way back to this moment for a long time.
— Janine Schaults
Category: Live Reviews, Weekly