Bruce Springsteen
United Center, Chicago
Sunday, October 21, 2007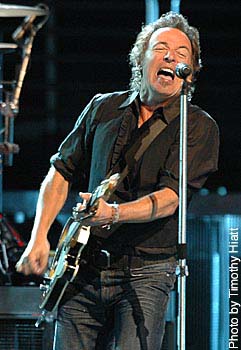 Sunday night's appearance by Bruce Springsteen & The E Street Band wasn't anything close to the three-and-a-half-hour lovefests of the recent past. Instead The Boss and co. pushed a trim, two-hour piledriver that leaned heavily on the new Magic (Columbia).
Visit illinoisentertainerphoto.com for an exclusive Bruce Springsteen photo gallery.
If the '70s through early 2000s set a Springsteen precedent of steady builds to climactic payoffs, Sunday's show was a rocky affair whose peaks and valleys seemed to have a lightswitch effect on the 20,000 in attendance. The band gambled most of the audience was familiar with Magic and lost, and were forced to deal with extended portions during which the United Center sat back.
You wouldn't have known it from looking at the stage, however. Springsteen, 58, still pounds at his guitar strings as if he's trying to snap either them or his pick, while howling and counting off one-two-three-fours like a man half his age. E Street were less animated, though "Little" Steven Van Zandt frequently found himself spooning Springsteen at the mic stand and shouting away loose layers of Silvio Dante's placid demeanor. Clarence Clemons would gently glide to centerstage and unleash furious doo-wop solos while Max Weinberg's economical drum kit boomed like the bass at a rave. (Patti Scialfa had the night off; she returned Monday night.)
Like it or not, however, Springsteen concerts have developed a party vibe rivalling Jimmy Buffett or the Chicago Cubs, and Sunday — with the exception of "Born To Run" and "Badlands" — the setlist and audience were at odds. New single "Radio Nowhere" exploded out of the gates (what happened to the circus organ that emerged from the stage?), and its "867-5309" riff eased atavistically into Born In The U.S.A.'s "No Surrender." But soon it was back into recent times and unfamiliarity, beginning promisingly with The Rising's "Lonesome Day" before dipping into the *Magic* bag with a soul-sapping "Gypsy Biker" and the title track.
People started getting out of their seats for what they thought was going to be John Lee Hooker's "Boogie Chillin'" (or something by ZZ Top), but instead were greeted by the night's only artistic triumph. Wrapping a track from his sparsest album in a highway-blues assault, "Reason To Believe" was both rolling and frayed. Using a distorted microphone for both voice and harmonica, Springsteen actually resembled Jon Spencer for five minutes. This overpowered, Maxwell Street jam steamrolled into a crushing "Adam Raised A Cain" and fist-pounding "She's The One."
Here Springsteen decided to cut the momentum again with a here-we-go, vaguely political treatise on the erosion of Constitutional rights to intro "Living In A Future," before reversing the opening set's trajectory with "The Promised Land," "Backstreets," "Cadillac Ranch," another Magic triple threat, and the exultant "Badlands."
Back to "Reason To Believe," one thing Sunday lacked was spirit. The E Street Band were an irrefutable presence, playing in lockstep and providing the Wall Of Sound their frontman internalized as a kid. But their unbending approach to most of the material on this tour (the setlists have been nearly identical, night-to-night) raises questions as to their future adaptability. While "rehearsed" is a better qualifier than "tight," E Street and ostensibly Springsteen were anything but loose, and seem to have scuppered their anything-goes reputation. "Reason To Believe" revived the idea of possibilities; the rest underscored plain reality, and The Boss has always been best looking ahead.
— Steve Forstneger
Category: Live Reviews, Weekly