God Forbid, Mnemic
Pearl Room, Mokena
Saturday, January 13, 2007
Meet God Forbid, the other New Wave Of American Heavy Metal band with God in their name.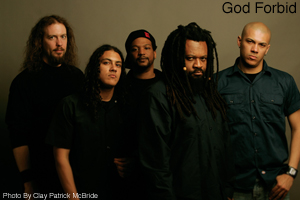 Like their Godly brethren Lamb Of God, God Forbid's most recent record is their career-defining effort. Though not on par with LOG's Sacrament — the second best metal record of the year behind Mastodon's Blood Mountain — God Forbid's IV: Constitution Of Treason (Century Media, 2005) elevated the New Jersey quintet to a level you wouldn't have necessarily thought possible by listening to their past releases. Shadows Fall, Lamb Of God, and Killswitch Engage are usually mentioned as the leaders of this new breed of metal, which fuses the melody of Swedish death metal, the technical excellence of thrash, and the volatility of hardcore. God Forbid, despite a following, was one of many also rans.
Too many of these bands who started as pure metalcore acts wallow in the complacency that runs rampant in the scene, and for a time it seemed God Forbid were destined to do the same. The good ones, though, learn to evolve without shunning their roots. Lamb Of God did it on Sacrament, an album that balanced heaviness and song craft, and God Forbid did it on Constitution. Songs like "Into The Wasteland" and "The Lonely Dead" are unquestionably heavy enough for GF to maintain credit with their fans but now they have restraint. Instead of simply tossing off 10 riffs per song and screaming unintelligibly sibling guitar tandem Doc and Dallas Coyle shape their molten riffs around the song's needs, and frontman Byron Davis embraces melody and fluxes effortlessly between smooth and rough vocals on tracks such as "Under This Flag." This will likely be the last U.S. trek in support of Constitution for God Forbid before they take some time and off and start a new record.
Openers Mnemic are no strangers to God Forbid: The two bands shared a bus while supporting Meshuggah in 2005. This Danish act's sound is more tech metal (Fear Factory's Christian Olde Wolbers produced Mnemic's upcoming release, Passenger) and a whole lot more rock 'n' roll — hard to imagine God Forbid doing a cover of Duran Duran's "Wild Boys" — than their headlining tourmates. Passenger (Nuclear Blast), the band's third full-length and follow-up to 2004's The Audio Injected Soul, will be in stores February 6th and features guest spots by Jeff Walker (Carcass) and Shane Embury (Napalm Death).
Goatwhore are direct support; Arsis and The Human Abstract also play.
— Trevor Fisher
Click here to download God Forbid's "Chains Of Humanity."
Click here for a Real Audio file of Mnemic's "Meaningless."
Category: Uncategorized