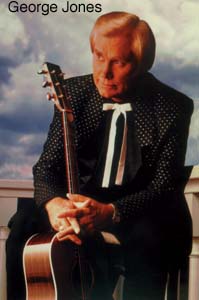 "When my life and my income and my profession are affected by media consolidation, we don't need to make a move any further in the wrong direction," George Jones said at a recent Federal Communications Commission media ownership hearing in Nashville. Jones was one of several country musicians – including Naomi Judd – who testified against further media consolidation in front of the five FCC commissioners last December.
Jones' claims are backed up by a recent study by the Future Of Music Coalition called "False Premises, False Promises: A Quantitative History Of Ownership Consolidation In The Radio Industry." It quantifies how the Telecommuni-cations Act Of 1996 paved the way for a homogenous radio wasteland that is difficult for recording artists to penetrate.
It shows that the top four radio station owners now command almost half the country's listeners and that the top 10 owners pull in two-thirds of all listeners (the two largest owners are Clear Channel and Infinity, which between them control 62 percent of the market). Ownership of stations by individuals who live within the listening area declined by almost one-third between 1975 and 2005. Just 15 formats make up three-quarters of all commercial programming – and formats with different names can overlap as much as 80 percent.
"Over half the large station groups' programming is devoted to country, classic rock, talk, sports, news, oldies, contemporary hit radio, and adult contemporary," says FMC research director Peter DiCola. "Important legacy music formats like classical, jazz, bluegrass, Americana, and new rock are either not represented or are drastically underrepresented in these large station groups."
Listeners have noticed; across 55 markets, listenership dropped 22 percent since its peak in 1989.
But it's the musicians who really lose.
"If the largest groups program in a narrow set of formats, then musicians working in any other formats have fewer opportunities to get on the air," says DiCola. "This affects their livelihoods in terms of tours, record sales, and royalties for airplay."
He continues, "Higher concentration of market share means that fewer companies control the outlets in each format. This means that decisions about what gets on the air are being made by a much smaller number of gatekeepers than a decade ago."
He says free radio is still key to selling records. "Musicians rely on radio airplay to build their careers, to promote tours, to sell recordings, and so on . . . radio has broader listenership than Internet services do; almost everyone has a radio, especially in their cars."
The FMC, which is headed by singer-songwriter Jenny Toomey, has a long list of suggestions for the FCC, which includes encouraging ownership by small, independent, and minority owners. The FMC also wants the FCC to make changes to the licensing process, reallocate the digital studio broadcast (DAB) spectrum to local entities, license more low-power FM stations, and put an end to structural payola, in which "independent promoters" essentially pay for play. They're also calling for the public to attend FCC hearings.
"Musicians should know that their voices count," says DiCola.
The FCC will hold four more hearings before approving any rules changes. At press time no hearings were scheduled; for updates go to www.stopbigmedia.com. To read the FMC study, visit www.futureofmusic.org. To learn how to start a low-power community radio station, see www.prometheusradio.org.
WAIT. THERE'S MORE: Last month WBEZ-FM scrapped most of its music programming in favor of more news and talk. DiCola says this could be part of a larger trend that has its roots in the virtual abandonment of original radio news by the commercial sector. "Employment in radio newsrooms was cut by about half between 1994 and 2002," he says, citing a study by the Radio-Television News Directors Association (www.rtnda.org/research/staff.shtml). "So my assessment is that NPR has been filling the void left by the virtual elimination of original news programming on the commercial radio dial."
STILL NOT DONE: According to Sun-Times media columnist Robert Feder, more than half of Chicago's top 25 stations were sold or offered for sale in 2006; sales involving Clear Channel Radio, Univision Communications, and ABC radio should be finalized later this year. To find out who owns what, go to www.stopbigmedia.com or visit www.openairwaves.org/telecom . . . NBC Universal's $750 million belt-tightening includes 700 layoffs and the elimination of local newscasts in favor of regional newscasts from its production center in Fort Worth, Texas at all but six of its 15 Spanish language Telemundo stations. Chicago, New York, Los Angeles, and Miami will not be affected. The National Association Of Hispanic Journalists says, "If regionalized newscasts are good for journalism and not just a way to save money while giving the appearance of meeting the network's public interest obligations, why are regional newscasts only being planned for the Spanish speaking audience? Doesn't the English-language audience deserve this level of service?" . . . Steve Cushing's brilliant "Blues Before Sunrise" now airs in its old time slot (Saturday nights from midnight to 5 a.m.) on College Of Dupage-owned WDCB-FM (90.9) . . . On a sad note Allan Stagg, who hosted the hypnotic overnight prog-rock radio show "Sanctuary," recently died of pneumonia at home in Michigan. We'll miss his distinctive voice, which can still be heard on video games such as "Hunter: The Reckoning," "Hunter: Redeemer," and "Mortal Kombat: Deadly Alliance."
PIMP SLAP: Nothing makes us want to plunge our head into the wall like hearing the 13th Floor Elevators soundtracking a Dell Computers TV ad.
– By Cara Jepsen