HUMANITARIAN OF THE YEAR
Eddie Van Halen knows two things very well: smokin' guitar licks and smokin' cigarettes. Apparently adult entertainment and curing cancer can be added to the list. The six-string maestro called Howard Stern's Sirius Satellite show on September 8th, Launch Radio Networks reports, to promote a porn movie (more on that in a minute) and tell Stern he was free of the tongue cancer he has been battling for years.
Van Halen revealed he had accomplished what doctors across the world have been struggling with for decades — a cancer cure. Yes, Van Halen and a partner developed a treatment that cured the disease, but don't ask what's in it, he ain't tellin'! That almost makes the fact Van Halen is now writing music for porn movies seem normal. He wrote two songs for director Michael Ninn's new adult movie, Sacred Skin (released September 13th), though he would appreciate it if you didn't call it porn, more like a legitimate film about good and evil that also has sex, Van Halen told Stern. You know, like Debbie and all those evil Texans she encountered in Dallas.
— Trevor Fisher
SIZZLIN' SKILLET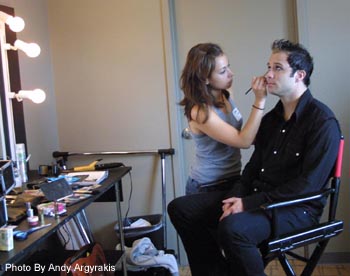 In anticipation of its latest Lava/Atlantic release, Comatose (October 3rd), alternative rock band Skillet set up shop at Chicago's Resolution Digital Studios to film its first music video from the project. The lead single, "Whispers In the Dark," was the subject of the several-hour session that found the band whipping its way through wardrobe, make-up, solo scenes, and full-band shots. "I started the shoot today with just me rocking into the camera, which at 10 in the morning is pretty hard to do," joked frontman John Cooper during a lunch break. "But the take went great and our director is really on top of things, which set the tone for the shoot."
The video was spearheaded by Darren Doane (AFI, Thursday, Deftones), who took the foursome on a whirlwind of takes on the tune, likely to fall somewhere between the stylistic lines of Evanescence and Coheed And Cambria. Conceptually the video adapted a somewhat cloudy visual motif, intermingling shots of players performing together and separately, along with overcast skies and turbulent wind activity. "We didn't want it to turn out grim, but 'Whispers' has a darker edge to it," continued Cooper. "There's a lot of gray and the background looks like a stormy sky. There's a combination of major and minor chords, plus a lot of big heavy guitars, so the look fits the song well."
— Andy Argyrakis
MEN AND WOMENCOW
Mancow and Turd having been flushed from Q101 (101.1 FM)'s morning schedule, a vacuum has existed on the shuffle station for several weeks. Well, no more. The station — owned by Emmis Communications — unveiled its new wakey-wakey programming will be an eight-strong comedy troupe a la "Saturday Night Live" segment "Weekend Update." At a bash geared toward advertisers, IE witnessed a sample half-hour performed live by a mix of Chicagoans, Second City/Improv Olympic/"SNL" alums, and co-anchor Ginger Jordan, a U Of I journalism grad just like the editor of the magazine you hold. Pictured with host Alan Cox (NU? Boooo!) is Lovehammer Marty Casey, who later performed "Trees."
— Steve Forstneger
IE RADIO NO MORE
What does IE have in common with David Lee Roth, besides a fancy for one-piece leopard-print leotards? We both got our asses canned from the radio! Access Radio apparently wanted more information and "less entertainment" from "ENTERTAINMENT Chicago," the half-hour program hosted by editor Steve Forstneger, associate editor Trevor Fisher, and art director Timothy Hiatt. We would like to say we had a good run, but truth is a mere four episodes were taped, and in all honesty, only two were any good. We can say it was fun while it lasted, though, and would like to thank show producer Iceman and Access Radio for the opportunity, and we would also like to thank the millions of listeners who tuned in faithfully each week. We do hope to begin podcasting soon, however.
— Trevor Fisher