Richard Buckner, Eric Bachmann
Schubas, Chicago
Thursday, September 14, 2006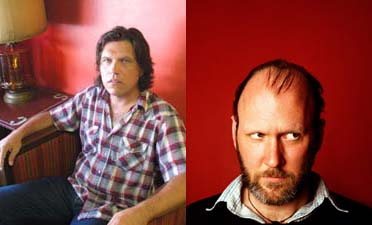 It's a banner night at the ol' Drink 'Em Down Tap, where we specialize in torturing your frayed nerve endings while you imbibe the pain away. Masters Richard Buckner and Eric Bachmann have the floor.
Buckner has held court on a number of anti-Friday nights at Schubas over the years. His grave tones and unimaginably communicative pipes have dialed down good times like the news of a bride suffering a seizure and stroke on her wedding day. His latest album, however, sets his trusty acoustic ablaze, perhaps enlivened by the return of producer JD Foster, who oversaw Buckner's two greatest albums, Bloom and Devotion + Doubt. Meadow (Merge) falls in line with another mope-cum-nailbomb: Damien Jurado on I Break Chairs.
While Meadow isn't nearly as severe in its makeover, the omnipresence of a trapkit and some jangly, roots-pop guitar figures immediately makes this the redheaded stepchild of Buckner's catalog. Granted, there's a supply of hankies ("Mile," "Before," "The Feather & The Tie") and he fills the air with portent ("Things can happen like you knew they could/without stopping"), but Richard Buckner is dead. Long live Richard Buckner.
When Eric Bachmann retired the Crooked Fingers moniker last year, he not only set his collaborators free (see forthcoming albums from Trentalange and Barton Carroll) but exiled himself into his touring van. Having no real home to call his own, he set up shop on wheels and wrote To The Races, which strips back the arrangements of the past few CF works. If the new album is any indication, Bachmann couldn't find much to latch onto with 2005's Dignity & Shame, a poppy effort that even had a Johnny-n-Juney duet. "Man O' War" makes use of supple background vocals but washes itself in a melancholy a la Crooked Fingers' "You Can Never Leave." The entire project is that of a gravelly voiced José González or Nina Nastasia, trolling the foothills of loneliness ("Tell me once again why we even bother").
The pair are playing two shows Thursday; Bachmann headlines the first and then they flip-flop.
— Steve Forstneger
Click here to download Eric Bachmann's "Lonesome Warrior."
Category: Stage Buzz, Weekly