Slayer, Lamb Of God, Mastodon, Children Of Bodom
Aragon, Chicago
Tuesday, June 20, 2006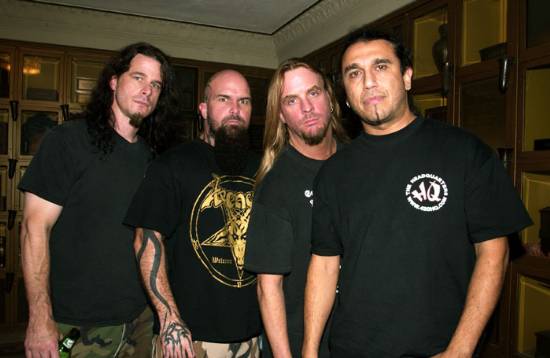 There's an episode of "Seinfeld" where George Costanza, while talking to his date, suggests toilet paper hasn't changed in his lifetime and never will. In fact, he claims, everything has and will change, but not TP. His bubble is later burst, though, when Elaine and Jerry inform him that in reality, a number of advances (softer, more sheets per roll, variety of colors) have been made in bathroom-tissue technology.
Maybe George should have used Slayer as an example instead.
Some call the L.A. band's perceived lack of evolution an inability to grow musically; others say it's incredibly admirable. Modern day Metallica and Megadeth are jokes to heavy metal fans, but when's the last time someone accused Slayer of selling out? The group's recent stop as Unholy Alliance headliners was just another example of how little, for better or worse, Slayer have changed in 25 years. There was guitarist Jeff Hanneman wearing his trademark black-and-silver Raiders jersey and Araya sporting the exact same mid-back-length hair. There was King, bald, tattooed, menacing, with his cut-off T-shirt and jagged B.C. Rich and Lombardo huddled behind his enormous drum kit.
The music, like the look, remains the same. The Aragon setlist offered few surprises, focusing on the "hits," however you choose to apply that term to Slayer. Opening with "South Of Heaven," one of the few Slayer tracks you could coin "slower," only made the breakneck speed of "Blood Red" and "War Ensemble" even more manic. "Disciple," the only song the group acknowledged from their time with drummer Paul Bostaph, was followed by "Mandatory Suicide," which Araya dedicated to American troops in Iraq. Careful not to commit to either side of the war argument, the frontman only said the soldiers ". . . have to do what they are told. Hopefully they all come back alive." "Seasons In The Abyss" was the most dynamically effective moment of the night, thanks to King and Hanneman's haunting guitar intro and Araya's chanting chorus, which he often let the crowd handle. Fans roared and fog poured from the machines that lined the rear of the stage as Slayer launched into "Dead Skin Mask," but it was the following song, "Raining Blood," and closer "Angel Of Death" that put the proverbial explanation point on the group's 70-minute set. Veteran fans would probably tell you the show wasn't much different than when they saw Slayer 12 years ago, and most probably prefer it that way.
The Unholy Alliance tour not only gave fans metal's reigning kings, but also two bands – Lamb Of God and Mastodon – often mentioned as Slayer's possible successors. If you weren't there early, though (5:00 in the evening!), you missed one of the night's best sets. Children Of Bodom's (from "Motherfuckin' Finland") catchy choruses and synthesizer solos were in direct contrast to the pile-driving approach of the rest of the bill, but singer/guitarist Alexi Laiho's frantic playing on early cuts "Needled 24/7" and "In Your Face" won the approval of Slayer's notoriously fickle crowd. Direct supporters Lamb Of God (from "Richmond motherfucking Virginia") proved they deserved their slot with a fast-and-ferocious 50-minute set. Compared to the tour cycle for 2004's Ashes Of The Wake, where LOG were hit-and-miss, the band put together an excellent set from start to finish thanks to pummeling songs like "The Faded Line" and "11th Hour." A knock on the band has always been frontman Randy Blythe's anonymous death metal growl, and while it's still his style, he has at least shaped it into something distinguishable, if not original: You could even understand his lyrics during "Laid To Rest"! The highly hyped Mastodon (disappointingly, just from Atlanta) was the only weak spot of the night. Two things worked against them: Number one, the infamous Aragon sound did the band no favors. While Children Of Bodom and LOG sounded surprisingly crisp and Slayer's mix was OK, Mastodon's already thick sound was muddied even more, killing the momentum Mastodon established with opener "Iron Tusk" and crippling gems like "March Of The Fire Ants." Second, the group's heady brand of twisty, turny, up-and-down prog metal was met indifferently by the crowd, who, given a choice, would assume not have to stop moshing for the downtempo sections of five-minute songs, preferring the three-minute jackhammers of Slayer and LOG instead.
LOG and Mastodon both played new material from soon-to-be-released records, but it was Slayer's "Cult," from the upcoming *Christ Illusion*, that made the most impact. An inspiring little ditty about religion, it wasn't the lyrical content, but the track's attitude that spoke volumes. "Jesus is pain/Jesus is gore/Jesus is the blood that's spilled in war," Araya declared to the Slayer faithful, "I've made my choice/six six six."
Toilet paper has gotten softer, but Slayer hasn't.
— Trevor Fisher
Category: Live Reviews, Weekly