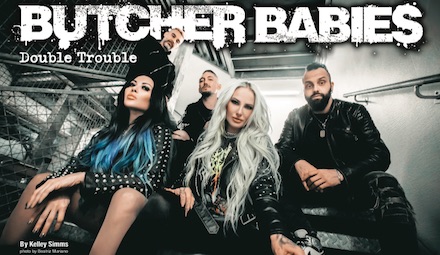 From just a quick glance at each other while on stage, Butcher Babies's duo bombshell vocalists—Heidi Shepherd and Carla Harvey—know exactly what each other is thinking… and they can't help but to crack up or give each other a sly smile. 
As best friends performing in a band, Shepherd and Harvey have been slugging it out among the oft-criticized metalcore/nü metal genres while gaining a dedicated fan base since their 2009 inception. The ladies—who share a true partnership—have perfected their trademark call-and-response vocals that perfectly accompany the band's ferocious sound.
Butcher Babies recently dropped a double shot of modern metal savagery with its new double album, Eye for an Eye… …'Til the World's Blind, last month, via Century Media. The band began writing and recording the songs that make up both albums from 2019 to 2023 and released a barrage of singles in 2020-21. Although they had no intention of releasing a double album, COVID-19 struck and gave the band more time to write another full album's worth of material.
Eye for an Eye… contains seven tracks, including a new version of "Sleeping with the Enemy," featuring Five Finger Death Punch's Andy James. This album is a bit more diverse compared to the 14-track (including the odd album closer "Don't Touch My Pole") …'Til the World's Blind, which is more in the vein of the band's previous material. 
Eye for an Eye… was recorded in the sun-drenched summer in Arizona, while …'Til the World's Blind was recorded in the frigid winter in Michigan. The dichotomy of the two albums is the distinct vibes that were experienced by the band in each location. 
IE's Kelley Simms caught up with Heidi and Carla via Zoom to discuss their longtime friendship, the band's new double album, and their upcoming tour—which includes a stop at Tinley Park.
IE: Butcher Babies just returned from a European headlining tour that included stops at Graspop Metal Meeting in Belgium and Resurrection Fest in Spain. You'll be joining headliners Mudvayne, as well as Coal Chamber, GWAR, and Nonpoint, for The Psychotherapy Sessions North American tour from July 20 to August 26. With a Tinley Park date on August 5th, what do you like most about playing in Chicago? 
Carla Harvey: The Midwest has incredible metal fans. I grew up in Detroit, so I saw it firsthand growing up. And now that I live in Chicago, it's the same intensity as it was when I was a kid. I don't know what it is, but people just love metal. Even when Charlie (Benante of Anthrax) and I go out to eat or go on dates here in Chicago, we get recognized all the time. Which is rare for people in metal bands. To be recognized on a regular basis, you know there's just a ton of metal love here in Chicago! 
Heidi Shepherd: Every time we've ever played there, it's always been one of our best markets. I remember the first time we actually played Tinley Park was on the Mayhem Festival 10 years ago. That show holds a special place in my heart because it was the first time my mom and my grandma, and a couple of other of our family members came out and saw us play. It was really a special moment for me with my mother and her mom, and it just holds a real special place in my heart. My grandma has since passed, so I'm excited to return to Tinley Park and refuel those feelings.
IE: The double album dropped on Friday, July 7, and I believe most of *Eye for an Eye…* consists of previously released singles?  
HS: Not all of them; there was one that wasn't (previously released). We were actually recording an album in 2019 and had set to start releasing it and finish recording it in 2020. Obviously, plans changed and so we decided to just keep writing, and the things that we were writing about, the things that we were experiencing in life, obviously were changing along with the rest of the world. And we decided, let's just take this creative high and go and create another album and down the line, we'll just release both of these together. I think it was on accident that it happened this way, but it was a happy accident.  
IE: You started writing and recording these songs from 2019 to 2023. Do these tracks still mean the same or instill the same emotions now that they are finally released? 
HS: Totally! And I feel like if you have a great song, it takes you back to the moment that you first heard it. If you're a listener or if you're a writer, it takes you back to the core emotions that you felt that caused you to write the song in the first place. There's still those core feelings that resonate within us when we're on stage, especially when we're on stage together and we look at each other and we remember a moment that we had or a moment the song's about. And sometimes we can't look at each other during certain songs. I remember on this past tour, Carla looked at me at one point and just busted up laughing, and I was like, "What are you laughing about?" And she said, "I don't know, I just looked at you!" Looking back at our song "Bottom of a Bottle," which is written about reminiscing on the good old days, reminiscing on the successes that you've had. As Covid happened, I think that song actually took on a whole new life. And it wasn't that the feelings changed; it was more intensified. We were concerned that maybe our industry wouldn't come back as strong because it did take a while to come back, and now it's thriving for sure.  

IE: Opinions are out that Eye for an Eye… is more diverse and …'Til the World's Blind is more in the vein of your previous albums. Is that a coincidence, or was that planned? 
CH: You know, people always say this and I think that we've always been pretty multifaceted in the things that we write. We've always had big, poppy choruses, and yes, the stuff on Eye for an Eye… is probably a more advanced version of what we were doing before with those choruses. We've grown a lot. But we've always ran the gamut with our songs from radio-friendly to really intense, super metal stuff. So, I think we've always done that. I think that we just have matured so much over the years that it sounds worlds apart. 
IE: What's the symbolism of the wind chimes on the cover of both albums? 
CH: When we were in Michigan, we stayed at this incredible Airbnb that was kind of like a little hunter's lodge; there were antlers all over the walls. It was the middle of winter and there was a wind chime on the patio that just had the most haunting melody. It was in the middle of nowhere, too. So, if you step outside, you just see (the wind chimes) against the frozen terrain. It was a very haunting sound and image. It became the perfect symbol, to sum up our time in Michigan recording that album. 
HS: My bedroom and this Airbnb were right next to this wind chime and I would hear it first thing in the morning, just in the wind. It's actually the last thing you hear on the last song on the album ("' 33Til the World's Blind"). It's the actual wind chime. We took a tape recorder out—a literal tape recorder—and recorded the wind chimes in the middle of the night. And that is the last thing that you hear on the album. So, other people get to experience exactly those wind chimes like we experienced it. It's just kind of a little Easter egg. And you know what else is a fun little Easter egg? The very last lyric on the very last song is also "eye for an eye till the world's blind." So, it all ties in together. 
IE: It has been ten years since your debut album Goliath was released, in which you pay homage to that era of the band on the track "Red Thunder." Looking back on when you began, is this now where you thought you'd be back then? 
CH: I don't think that we ever dreamed that we would have all these albums. I was looking at our album listing on Spotify and you gotta pinch yourself. We're just kids from Detroit and Provo, Utah, and we found each other in a sea of other people in Los Angeles and we wanted to make some noise and just play music with our best friends. I don't think we ever thought that we'd actually get signed and do that first album and do these amazing tours, let alone five albums later. We've been all over the world together. It's pretty insane and we're pretty lucky. We're grateful for that. 
IE: With your long-standing friendship and your sister-like bond, "Best Friend" from Saweetie and Doja Cat seems to be the perfect track to cover.
HS: Carla and I find inspiration in so many different kinds of music. We love everything. If you were to attend one of our late-night parties or ride on our bus from city to city, a lot of the times we listen to '90s gangster rap and hip-hop. One of our favorites is Lil' Kim on the bus. When we first heard "Best Friend" from Saweetie and Doja Cat, it was like, "Oh my gosh, this song was written for us!" If there's a song for us to cover, it has to be this one. Everything in it just made sense for us and it was really cool. I love being able to play that song together. It's so fun when we're on stage and we just get to play off of each other. And I think it's really cool to recognize that there are two females in this band. We've been best friends even before we started this band, and we were in a band together prior to this. It's really cool and it should be celebrated that women can work together like this for almost two decades and still remain best friends. And when we get on stage, we're still those two best friends on the Sunset Strip playing the Cat Club. No matter where we are in the world, it's still those two best friends.
IE: One of the most intriguing tracks on the album has to be the ballad "Last December." Is this the first time you thought about doing a more delicate type of song? 
HS: No, we have ballads on all of our albums, actually. We have a really intense ballad called "Thrown Away" on our second album. We have one called "Look What We've Done" on our third album. "Last December" was written in 2020 via Zoom with a really incredible writer out of Nashville named Blair Daly. And we were at home just like everybody else, experimenting, writing different things. There are these notes that I had taken from an experience I had in 2019, and it was just a really dark time in my life where the darkness almost took over me. How I came out of that is through writing my feelings down and taking a step back and reflecting. Those feelings, those emotions, those scribbles, and those notes became "Last December."
IE: You've been playing some of the new songs live that we've already mentioned for a few years now. Are you planning on adding even more new songs for this upcoming tour? 
CH: We actually played three of the new songs, maybe more, on our last tour. Our set is very new-song heavy between the stuff on both of these albums. It's really exciting to play the newer songs and the fact that people are loving them is surreal. When we play these big festivals in Europe, the songs that people are pitting to are "Yorktown" and "Bottom of a Bottle." I never dreamed that people would love those songs so much and get so into them. And that's a testament to the fact that a good song is a good song. It doesn't have to be the most brutal, heavy song ever. If it's got a catchy chorus… if people want to sing along or mosh along to, that's incredible! 
HS: We love introducing new songs to the set, and it's a way to see if the crowd is really reacting to it. The first time we played "Red Thunder," people were singing along. When the first beats come in for "Beaver Cage," people get so excited. I've never seen people go as crazy to one of our songs as they do for "Beaver Cage." We're definitely adding in the new stuff for this run. We're very excited about playing these new songs for everybody. 
IE: Here's hoping for another decade of music and touring for Butcher Babies! What's left for you to achieve or accomplish? 
CH: I hope that there's another Butcher Babies album eventually that can top these two. It's got to be even better than these two put together. It's actually kind of nice to just take a step back for a second and enjoy the moment and not worry about what's next for once. It's really great to just sit in the moment and enjoy the fact that we've released a double album that people are loving and not worry about what's next. 
HS: Creatively, we never really stop writing. Thinking of what's next to accomplish? That's a really good question because I feel so fulfilled and so excited in everything that we've done. I think what's next to accomplish is South America and Australia again, and parts of Asia that we've never been to. So I think those are the next things to accomplish. We really want to take this album on a world tour.
Appearing with Mudvayne August 5 at Credit 1 Amphitheatre, Tinley Park
– Kelley Simms
Category: Cover Story, Featured